After Brexit, central bank watchers have anticipated a rate cut from the Bank of England (BoE). However, instead of cutting the benchmark rate from 0.50% to 0.25%, the monetary policy committee (MPC) voted to holds it at 0.50%.
Bank of England Monetary Policy (pdf)

From Reuters: 
"
The Bank of England kept interest rates unchanged on Thursday, wrong-footing many investors who had expected the first cut in more than seven years with Britain's economy reeling from last month's vote to leave the European Union.
The BoE said it was likely to deliver stimulus in three weeks' time, possibly as a "package of measures," once it has assessed how the June 23 referendum decision has affected the economy, the world's fifth largest.
"In the absence of a further worsening in the trade-off between supporting growth and returning inflation to target on a sustainable basis, most members of the Committee expect monetary policy to be loosened in August," the Bank said in minutes of its July meeting which ended on Wednesday.
"The precise size and nature of any stimulatory measures will be determined during the August forecast and Inflation Report round," it said.
" (Full article on Reuters)
The thing is, even though the vote was to maintain interest rates, the MPC did hint at a stimulus measure. As far as the pound is concerned, monetary stimulus should bearish. But the market does not seem to believe that at least in the moments following the BoE policy announcement. 
New Prime Minister of UK: Theresa May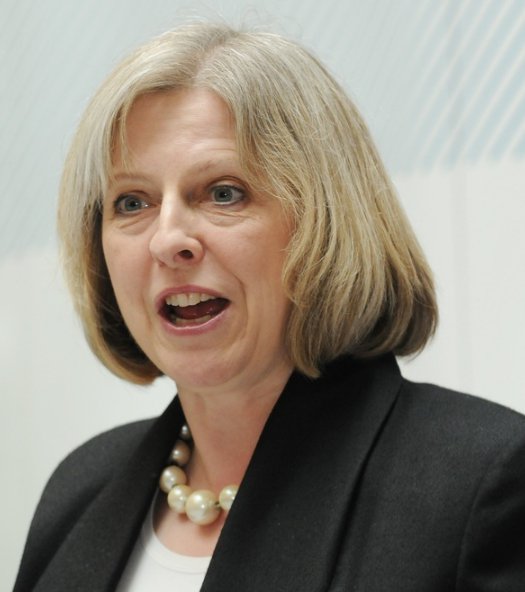 (courtesy of towleroad,com)
Also, I really don't think the MPC can have an accurate assessment of Brexit's fallout. The renegotiation process is going to be a long one, and many economic implications depend on the structure of this renegotiation with EU. Theresa May surely inherited a volatile situation. Good luck to her the next few months as the new PM of UK.  
GBP/USD 4H Chart 7/14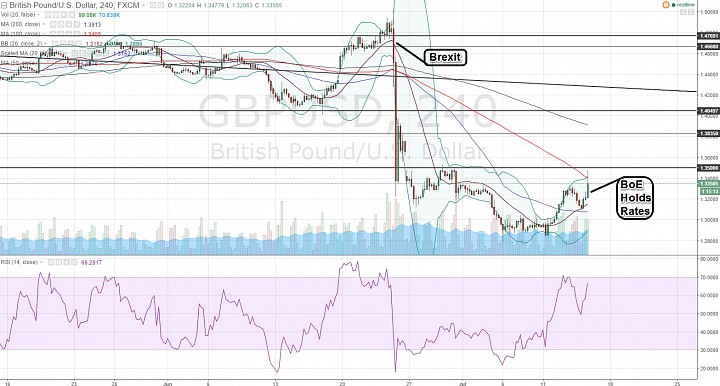 (click to enlarge)
Bullish correction to face resistance:
The 4H chart shows that GBP/USD was already recovering after post-Brexit dive.
In the short-term, GBP/USD looked bullish after being able to climb back above 1.30. 
However, the upside could be limited, as price approaches resistance around 1.35. 
Maybe the dip to 1.28 was indeed a overreaction, but that does not mean GBP/USD is necessarily bullish. 
I think the GBP/USD is likely entering a period of consolidation after that post-Brexit move. But there is still pressure. 
Respect resistance below 1.36, but limit bearish outlook to 1.30:
In my opinion, we should respect this resistance around 1.35. 
There could even be some short-term bullish momentum to push the pound-us dollar to 1.36. 
However, I think there is still downside risk. But, I would also limit the bearish outlook to 1.30 for now in case the market respects that price bottom created this past week. (7/6-7/11)