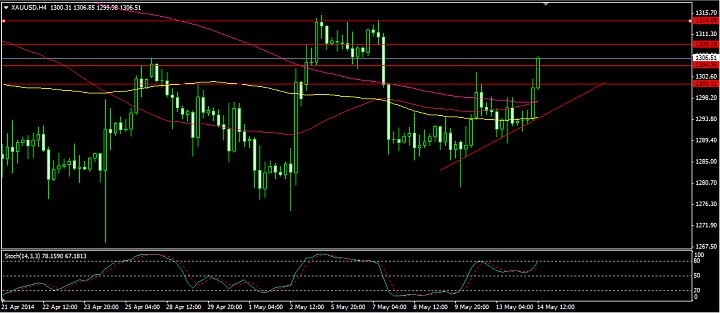 Gold yesterday went up following the release of the downbeat US Retail Sales data and continued to surge up today ahead of the release of an important data US Purchasing Price Index. It tends to have more impact when it is released ahead of the CPI data because the reports are significantly correlated. 
On the 4 hour chart, Gold broke out from the sideways trend it was following. There was a resistance at 1301.11. The pair also broke the next resistance level at 1304.95 which was earlier acting as support. If the pair continue to surge it will find the next resistance levels at 1309.19 or 1314.09. However it depends on the US PPI data which is going to release at 8:30 AM EDT, if the data beats the economist's expectations, Gold will come back finding the support from the previous resistance levels. Technically the pair followed the ascending triangle pattern which showed that the pair will continue to follow the uptrend.
Meanwhile tensions in Ukraine persists as 7 Ukraine soldiers were killed and 7 were wounded by a surprise attack from Pro Russian separatists in eastern Ukraine which supports the increasing demand for Gold.