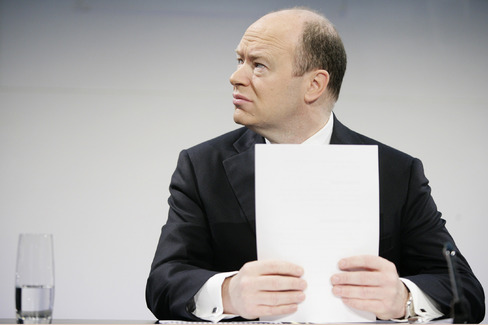 Deutsche Bank AG co-Chief Executive Officer John Cryan unveiled the firm's biggest quarterly loss in at least a decade and may eliminate a dividend that's stood since Germany's postwar reconstruction as he tries to overhaul the firm without asking shareholders for more capital.
Europe's biggest investment bank expects a third-quarter loss of 6.2 billion euros ($7 billion) after writing down the value of its two largest divisions and boosting reserves for legal costs. Its American depositary receipts tumbled 6.9 percent after the disclosure late Wednesday as of 6:36 p.m. in extended trading in New York. Cryan, in a memo to staff, said employees will share some of the burden when the firm sets year-end bonuses.
The charges clear the way for a strategy that Cryan, who became co-CEO in July, is preparing to present later this month as he looks to shore up capital and boost profitability. Spending on regulatory and compliance costs have overwhelmed the firm's efforts to cut costs.
Cryan "wants to start off with a clean slate," said David Kass, a professor at the University of Maryland's Robert H. Smith School of Business.
The firm said it expects to book a 5.8 billion-euro writedown as higher capital requirements reduce the value of its investment bank and it adjusts the estimate of what it will receive in the disposal of Deutsche Postbank AG. Goodwill and intangible assets at the core of that adjustment were booked when the firm acquired businesses -- including Bankers Trust in 1999 and Postbank in 2010 -- for more than the...
More