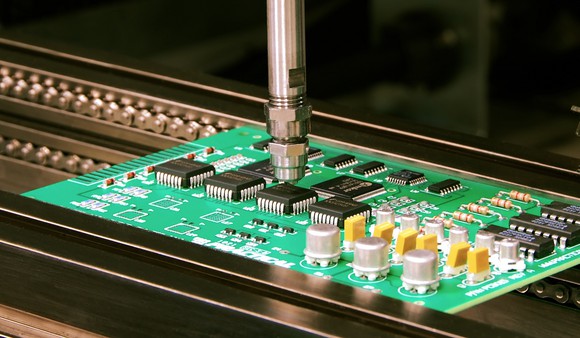 Nordson Corporation (NASDAQ:NDSN) released better-than-expected fiscal third-quarter 2016 results Monday after the market closed. And with shares up around 3% in after-hours trading as of this writing, the maker of adhesive dispensing equipment is rightly pleased with its performance as it continues to successfully weather today's sluggish macroeconomic environment.
Nordson's headline numbers
Quarterly revenue rose 6% year over year, to $489.9 million, as a less than 1% negative impact from foreign currencies was more than offset by both organic volume growth of 4% and a 2% contribution from acquisitions over the past year. Meanwhile, operating margin expanded by 3 percentage points, to 25%, which translated to net income of $84 million, or $1.46 per diluted share, up 28% from earnings of $1.14 per share in last year's fiscal Q3.
By comparison, Nordson's guidance provided three months ago called for quarterly revenue to increase a more modest 1% to 5%, with operating margin of 24% and earnings per diluted share in the range of $1.25 to $1.37.
"Nordson delivered record revenue and profitability in the third quarter as our global team continued meeting customer needs across our diverse end markets and driving efficiency throughout our operations," added Nordson CEO Michael Hilton. "We generated very solid organic growth of 4% in the quarter, compared with a period of robust growth a year ago, outperforming the continuing low-growth global macroeconomic environment."
Breaking it down
On a segment basis, organic volume at Nordson's adhesive dispensing systems business grew 4% year over year, driven by strength in the consumer non-durable and general product assembly markets, while last year's acquisition of WAFO contributed additional volume growth of 1%. Operating margin for the segment was 27% as reported, and 28% adjusting for...
More