AUD/JPY has been more or less consolidating since mid-June. Really, ever since pushing above 0.96, the AUD/JPY started trading sideways. It has managed a relatively flat support in the 95.20-95.40 area, but resistance has been edging higher, to 96.50 in the latest swing.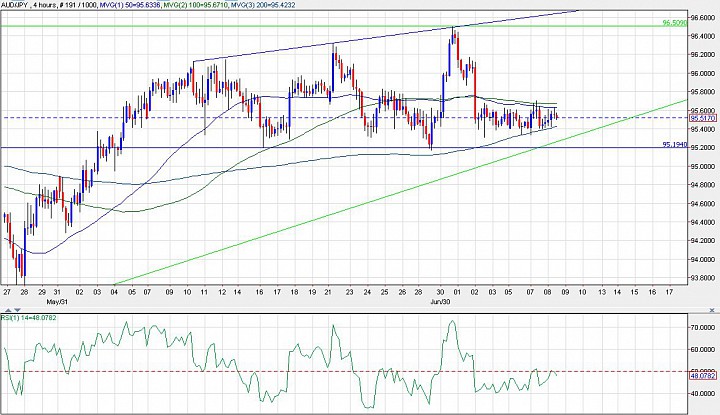 (audjpy 4h chart, 7/9)
Last week we saw the pair retreat from this high, back to 95.40 where it has been consolidation in a small range since.
Note that the 4H RSI is still above 40, which reflects maintenance of bullish momentum. Price is stuck between the 200-, 100-, and 50- moving averages in the 4H chart, which shows lack of direction. It has however held above the 200-4H SMA, and thus maintains a slight bullish bias. 
From this 95.20-95.40 area, we can expect another bullish attempt if the market is to remain bullish. We can find more clues to back up the bullish outlook from the daily chart:
Also, there is an inverted head and shoulders pattern. In the middle of an uptrend, this pattern signals strength after a clear out. The head is the clear-out, taking out weak bulls. The fact AUD/JPY was able to come back to the 96.50 level shows renewed strength.
The bullish continuation scenario has 96.50 as the first target, though new highs on the year is very conceivable given the 2014 trend. A slide below 95.00 however, could signify a loss of the bullish strength, and point to further sideways consolidation, with near-term bearish bias.