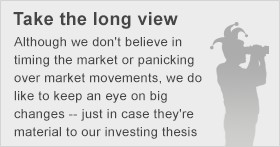 What: It's been one hell of a week for Zafgen .
Monday and Tuesday shares were down on worry that bad news was coming.
On Wednesday, the biotech announced that there was a death in its trial testing beloranib in patients with a rare genetic disease called Prader-Willi Syndrome. Shares actually went up -- albeit not nearly as much as they were down the previous two days -- because there was still a possibility that the patient was either taking placebo or the drug didn't cause the death.
Thursday was the most uneventful day of the week. Shares only went up 7.8% on continued optimism that the patient death could turn out to be much ado about nothing.
Unfortunately Zafgen is ending the week on a bad note with shares down more than 30% after announcing that the patient who died was taking beloranib not placebo and that the Food and Drug Administration was putting beloranib on a partial clinical hold.
So what: That "partial" part is important. A full clinical hold would require Zafgen to stop its clinical trials completely. Instead the FDA will allow the clinical trials to continue after patients are "screened for existing thrombotic disease." There have been thromboembolic events -- blood clots -- in previous and ongoing trials testing beloranib, so the FDA is being cautious...
More