A Reuters article reports that Goldman is looking to make direct private-equity investments to compensate for weakness in trading.
Goldman Sachs Group Inc is ramping up its private-equity investments and going after smaller, high-growth targets as part of a broad plan to offset recent trading declines, three people familiar with the effort told Reuters. Goldman's investment bank, which typically focuses on advising large companies on mergers and raising capital, is now looking to use Goldman's own funds to finance a handful of small, promising companies in the near-term, the people said. Sponsored
The team scouting for deals is led by senior investment banker Kathy Elsesser, who earlier this year took on the project in addition to her role as global chair of consumer, retail and healthcare investment banking.
Goldman is hoping to repeat the success that the bank has had in the technology industries elsewhere, as Reuters explains.
The goal is to repeat Goldman's past success with early-stage investments in tech companies such as Uber Technologies Inc. The latest effort, however, would target industries outside of Silicon Valley, said the people, who declined to be named because the strategy they were discussing was not yet public.
Anonymous sources indicated that individual investments will be in the tens of millions of dollars and will be financed from the company's balance sheet – far smaller than investments it manages for clients. While the Volcker Rule limits banks' ability to invest in private equity funds, however, there is no limit on direct investments in companies.
This might be a great idea by Goldman and people talking to Reuters emphasized the synergistic benefits from forging strong relationship with companies which management will subsequently look to IPO. However, we can't help thinking that making investments in highly leveraged companies would have been less risky earlier in the current, long-in-the-tooth economic cycle. But pro-cyclical behavior is a defining characteristic of investment banks and Goldman is no exception (AIG cough). Some months ago, we remember speaking to a retiring private equity dealmaker who lamented the fierce competition between private equity bidders and the risk to future returns. He stated that although he could raise almost unlimited amounts of capital, deploying it in a responsible manner had never been more challenging.
The motivation for this move is Goldman's aim to add about $5 billion in incremental revenue to offset the "slump in bond trading" as Reuters notes.
Even a successful effort is unlikely to make up for the billions of dollars of trading revenue Goldman has lost since 2009, analysts said. "They've admitted there is a potential problem long-term with revenue growth so they need to do something about it," said Brian Kleinhanzl, a bank analyst with Keefe, Bruyette & Woods. "But it's rare for things to move the needle too much with Goldman." Those involved with the strategy characterized it as one of many ways Goldman is trying to use its own capital to boost returns, even if it is on a small scale.
Here is the chart of Goldman's quarterly revenue from our discussion of Goldman's 3Q 2017 results earlier this month.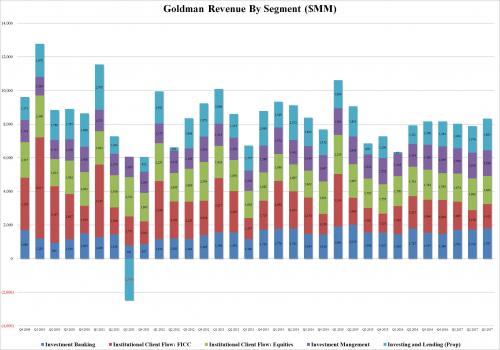 We observed.
Discussing the ongoing weakness in FICC, Goldman explained that "net revenues in Fixed Income, Currency and Commodities Client Execution were $1.45 billion for the third quarter of 2017, 26% lower than the third quarter of 2016, due to significantly lower net revenues in commodities, interest rate products and credit products and lower net revenues in currencies, partially offset by higher net revenues in mortgages. Although market-making conditions improved in most businesses compared with the second quarter of 2017, Fixed Income, Currency and Commodities Client Execution continued to operate in a challenging environment characterized by low levels of volatility and low client activity.
Finally, there is an inference in the Reuters story that something of a power shift might be occurring in Goldman in favor of the investment bank.
Elsesser's new role showcases the growing importance of Goldman's investment bank, which is central to many of its new revenue initiatives. Under the leadership of co-heads Gregg Lemkau, Marc Nachmann and John Waldron, the business has strengthened its presence in cities such as Atlanta and Dallas, hired more senior dealmakers from Wall Street rivals, created a new team to pitch innovative ideas to big clients, and invested in technology. While the team works within Goldman's investment bank, any income generated from its equity stakes will flow into Investing & Lending, which is not a business but a reporting category that shows the results of Goldman Sachs employing its own capital. Since the bank began reporting earnings that way, annual revenue from Investing & Lending has varied widely, from $2.1 billion to $7.5 billion. Through the first nine months of this year, Goldman's Investing & Lending revenue has soared 90 percent. Private-equity gains helped the bank beat Wall Street third-quarter estimates even as trading revenue slumped. Some analysts are more optimistic about Goldman's private-equity push than other initiatives, such as consumer lending or corporate hedging, where it has little to no experience.
"Part of Goldman's core business is its ability to take equity stakes in companies they're working with," said Marty Mosby, an analyst with Vining Sparks. "It may create more volatile outcomes, but ultimately it's more within their competency than other businesses they're trying to get into."
With rumors today that Cohn will definitely not get The Fed Chair position and will likely leave The White House, we suspect Goldman will need more than just regulatory relief hopes to 'manage' through the low vol, low volume new normal.