Burgers and fries are more valuable than making a phone call or surfing the web.
Otherwise, what could explain McDonald's (MCD - Get Report) sporting a greater market value than Verizon? And McDonald's is trading at nearly five times the value of Deutsche Bank (DB - Get Report) .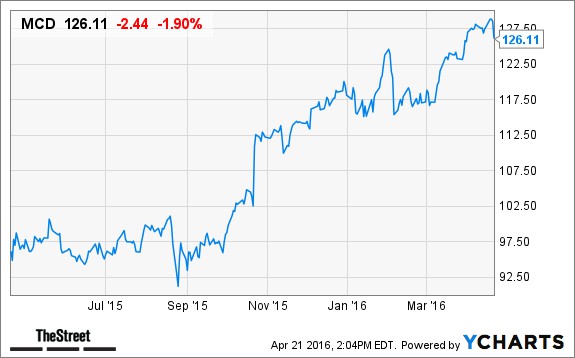 Back by Popular Demand…"Confessions of a Street Addict" Get a FREE signed copy of Jim Cramer's national best-seller when you gain access to his multi-million dollar charitable trust portfolio! Click here to see Jim's holdings and get your FREE gift.
The zing is back under the Golden Arches. With projected double-digit earnings growth beckoning in the next five years, gluttony for profits has just become bigger at McDonald's, which plans to offer all-you-can-eat fries soon.
Must Read: Photos: McDonald's Testing Its Biggest Ever Change to Iconic Big Mac
This once-beleaguered company belongs in investors' long-term retirement portfolios.
The future looks quite rosy for McDonald's, which has for years grappled with labor and other thorny issues locally and globally.
Thinking of grabbing a bite of this stock? Read on.
Investors who held McDonald's shares from 2011 onward, know that 2012, 2013 and 2014 were pretty frustrating. The stock essentially remained flat during this period, and all investors could rely on were its dividends.
Last year was a landmark one and not just because of the all-day breakfast menu. After three straight years of disappointments, shares of McDonald's delivered 30% total...
More