Last Friday (8/26), Fed chair woman Janet Yellen spoke at Jackson Hole about the forumula(s) the FOMC follow to set interest rates, albeit being reluctant to follow it strictly:
"it involves four variables: so-called R-star, which is the longer-run normal value of the federal funds rate adjusted for inflation; the four-quarter moving average of core PCE inflation; the FOMC's target for inflation; the unemployment rate and the longer-run normal rate of unemployment." (Marketwatch.com)
At the end of the day, the market felt that Mrs. Yellen was a bit hawkish, opening the door to a rate hike, likely in December. This has been the market rhetoric of late - a December rate hike, and the speech did not derail these expectations. 
The economy has somewhat improved, prompting a stronger case for a rate hike. Yellen said, "in light of the continued solid performance of the labor market and our outlook for economic activity and inflation, I believe the case for an increase in the federal funds rate has strengthened in recent months," (Nasdaq.com


I have my doubts, but the important thing is that the market is buying into the hawkish lean and buying up the USD. The USD/JPY for example has been consolidating at and just above 100.00 for a couple of weeks before taking off like a rocket.

USD/JPY 4H Chart 8/29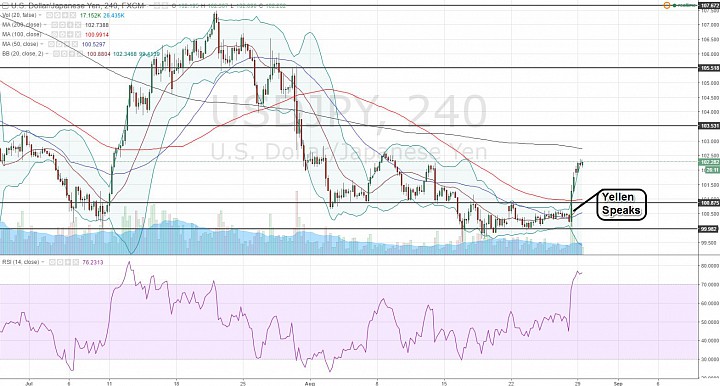 (click to enlarge)

Bullish breakout:
- The 4H chart shows the USD/JPY breaking out of its consolidation.
- This is a reversal in the short-term, but really just part of a medium-term consolidation between roughly 99 and 107.50. 

Upside; resistance:
- In the near-tern, there might be some resistance around 102.50, which provided resistance a couple of times earlier in August.
- Above that, there is a support/resistance pivot area between 103.50 and 104. This is also the "central pivot" of the overall range and is a viable target. 
- An aggressive target would be a support/resistance pivot at 105.50.
- The most aggressive target for now should be 107.50 which was the July high. 

Trading strategy:
- In the short to medium-term, I think there is bullish bias. 
- With this bias, it could be prudent to buy on dips.