Powell's appointment is subject to Senate confirmation
Gauge of U.S. dollar dropped for the first time in three days
Gold climbed for a second day as President Donald Trump announced Jerome Powell as his choice to lead the U.S. Federal Reserve.
Bullion for immediate delivery advanced 0.1 percent to $1,276.04 at 3:42 p.m. in New York. The metal earlier rose as much as 0.8 percent to $1,284.23 an ounce, the highest since Oct. 20. Fed Governor Powell has been supportive of current Chair Janet Yellen's strategy of gradual tightening.
Gold has advanced about 11 percent this year, building on gains in 2016 as U.S. policy makers opted for two rate increases. They also took the first steps in paring the bank's $4.5 trillion balance sheet that was amassed as the Fed undertook an unprecedented program to revive the world's top economy. On Thursday, the Bank of England raised rates for the first time in more than 10 years while indicating another increase isn't imminent.
The next Fed chair "will be a continuation of Yellen," Bob Haberkorn, a senior market strategist at RJO Futures in Chicago, said in a telephone interview. It'll probably be "a continuation of the same rate plan we've been seeing over the past two years. Gold's upside will be limited between now and the next Fed meeting. There will be a reluctance to add to positions unless there's some geopolitical event."
The U.S. central bank upgraded its assessment of the economy and reinforced expectations of a December hike at the end of its policy-setting meeting Wednesday. Investors are also weighing uncertainty about the prospects of Trump's U.S. tax cuts.
House Republican leaders began rolling out a tax bill Thursday that contains sweeping changes for business and individual taxes. The bill ran into opposition almost immediately.
Powell's appointment to the biggest job in the financial world is subject to Senate confirmation. He's been a Fed governor since 2012, and in that time has never dissented from a monetary-policy decision. The Washington native would be taking over at a tricky time, with inflation well below the bank's 2 percent target, while asset prices are at levels considered lofty by policy makers.
In other precious metals:
Silver for immediate delivery fell
Platinum and palladium declined
— With assistance by Eddie Van Der Walt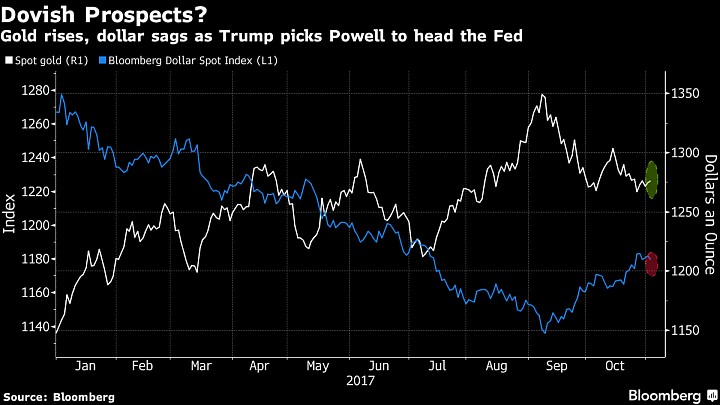 More