SILVER: Moving downwards…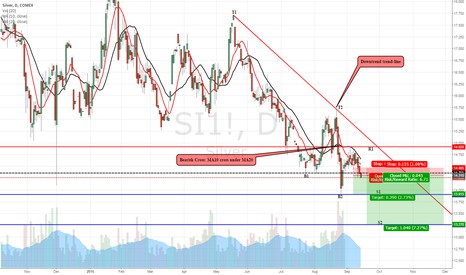 The Daily trend is in a Downtrend technically indicated by following:

• Dow pattern- lower tops and lower bottoms (T1-B1-T2-B2).
• Price is currently trading BELOW the downtrend line.

The downtrend is confirmed from the MAs. Bearish cross observed- MA 10 cross under MA20.

Generally, the main long-term trend has favoured the downside.
Therefore, we will recommend SHORT positions for the no position holders on SILVER in case of a move BELOW the level of 14.35. Take profit at 13.91 (S1) and stop loss should be a bit above the 14.35, thus the stop loss is at 14.46.
For Short-holders we will recommend to HOLD their short positions and adopt the same stop loss and take profit orders as mentioned above.
Otherwise, a move above the downtrend trend-line confirms that prices may move upwards. In this case we will recommend long positions.