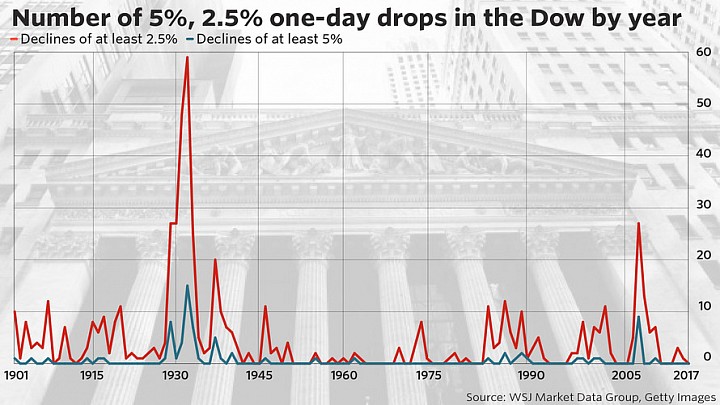 The U.S. stock market has been on such a parabolic march higher that Wall Street investors may have forgotten what a typical, sharp downturn feels like.
Indeed, much has been made about the lack of volatility. The CBOE Volatility Index VIX, +1.55 otherwise known as the "fear gauge," had been flirting with its lowest close on record, implying that market expectations for a sharp, sudden fall are near rock bottom, as the Dow Jones Industrial Average DJIA, +0.15 S&P 500 index SPX, -0.13 and the Nasdaq Composite Index COMP, -0.12 scale new heights. (The Dow notched a fresh record on Friday to end the week 1.2% higher.)
The recent level of complacency permeating the market has pundits talking about the lack of 5% falls in the market—an occurrence that isn't unusual in a normal market environment. However, a 5% tumble, while normal, isn't that common either. It has occurred at least 75 times over the course of the blue-chip index's, according to WSJ Market Data Group, using data going back to 1901. The Dow, however, hasn't experienced a 5% decline since 2011, and before that a 5% drop hadn't happened since 2008, when there were 9 such drops (see chart below):
At this point, with the Dow just 200 points shy of 22,000, a 5% selloff would equate to a 1,100-point, one-day slide in the gauge. Is the market ready for that sort of sudden jolt lower, given the optics of a quadruple-digit downturn and how it might rattle investment psyche?