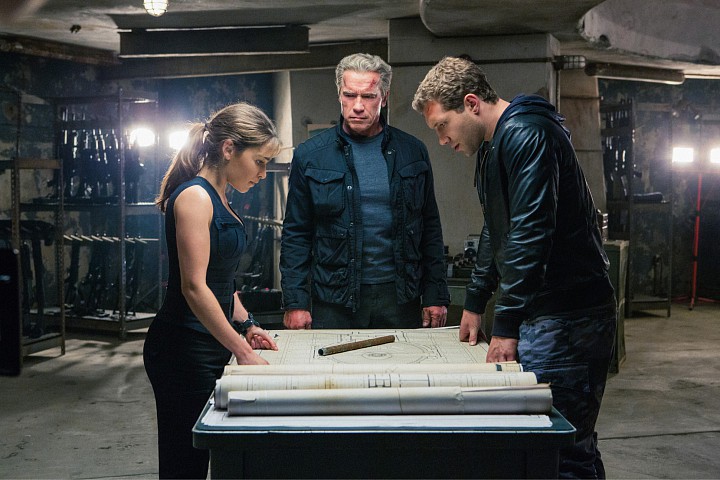 With $85.8 million in its first nine days in China, a new $320 million+ overseas cume, and a $409m and counting worldwide total on a $155 million budget, Arnold Schwarzenegger's Terminator Genisys is looking like the kind of hit that justifies a sequel. And Paramount/Viacom, along with Skydance Productions, certainly wanted their franchise sequel/prequel/reboot to launch a new franchise stemming from the prior Terminator films. A would-be sequel is already slotted for May 19th, 2017. But here's the $155m question: Should Paramount look at the China numbers and press onwards with a sequel? Or should they and Skydance merely thank their lucky stars that they dodged a bullet and not press their fate yet again? Because make no mistake, the notion of a sequel to Terminator Genisys is still a pretty uncertain proposition.
Like any number of "barely a hit" would-be franchise starters, Terminator Genisys is in an odd place of being relatively successful (it may well earn just over/under 3x its $155m budget by the time it wraps up) without being liked. And the fact that it's plunging like a rock in China (it has barely earned three times its $27m opening day in its first nine days of play) just as it plunged in America and elsewhere means that Chinese audiences weren't so crazy about it either. Yes, the film will probably earn around $120m in China, which puts it on par with Iron Man 3 and The Hobbit: The Battle of the Five Armies. But it snagged a $27m opening day, the fourth biggest in Chinese history, and yet it won't come anywhere close to the other films that pulled just over/under those numbers on their first days. For example, Transformers: Age of Extinction earned $30m on its first day towards a $310m total, while Jurassic World earned $229m in China off a $17m opening day.
The worldwide success of Terminator Genisys is less like Batman Begins (smaller than hoped, but incredibly well-liked with strong word of mouth) than the likes of Tron: Legacy or the 2001 Planet of the Apes remake. The film hasn't primed audiences for what comes next, nor did it leave them jazzed about a whole new slate of Terminator films. A second Terminator Genisys picture will have to spent much of its time artistically justifying itself yet again. And the producers and filmmakers will undoubtedly spend much of its marketing campaign apologizing for the last picture while basically swearing that everything will be different this time. So once again the filmmakers will spend the press tour explaining that "No, wait, this one is really the true sequel to T2."
And if...
More