What happened
Shares of oil engineering and construction specialist McDermott International (NYSE: MDR) are up 10.7% as of 12:15 p.m. EDT Wednesday. The catalyst for today's move was the company's earnings that were well above Wall Street estimates. 
So what
McDermott's third-quarter earnings came in at $94.7 million, or $0.33 per share, on $958.5 million in revenue. Wall Street expected earnings to be $0.20 per share. 
Another bit of good news is that this quarter's result gave management enough confidence to raise its earnings guidance for the full fiscal year. Management now expects revenue to land around $3.0 billion for the year with earnings at approximately $0.53 per share. 
Now what
McDermott's results are a sign that international oil and gas activity is starting to pick back up again, especially in the Middle East. The company won two engineering, procurement, construction, and installation awards this past quarter that generate between $250 million and $500 million each.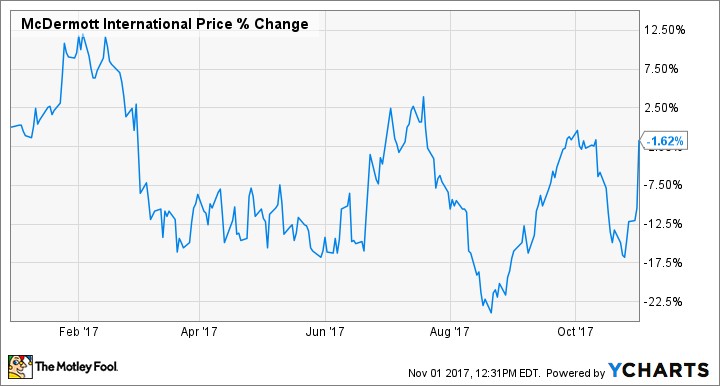 From a company perspective, the most encouraging sign is that margins are expanding thanks to better cost control and project execution. If the company can continue to win significant contract awards and maintain its margins, the next several years could be bright for McDermott. 
10 stocks we like better than McDermott International
When investing geniuses David and Tom Gardner have a stock tip, it can pay to listen. After all, the newsletter they have run for over a decade, Motley Fool Stock Advisor, has tripled the market.*
David and Tom just revealed what they believe are the 10 best stocks for investors to buy right now... and McDermott International wasn't one of them! That's right -- they think these 10 stocks are even better buys.
Click here to learn about these picks!
*Stock Advisor returns as of October 9, 2017
Tyler Crowe has no position in any of the stocks mentioned. The Motley Fool has no position in any of the stocks mentioned. The Motley Fool has a disclosure policy.