Monday marked the beginning of what could end up being one of the largest taxpayer-funded bailouts in history. On the heels of Corinthian Colleges' move to shutter its remaining campuses after government investigations tied to deceptive practices forced the school to wind down operations last year, thousands of students have appealed to the Department of Education to have their federal student debt forgiven. 
The initial joint petition sent to Secretary of Education Arne Duncan came from dozens of consumer and labor organizations claiming to represent some 80,000 aggrieved students seeking to have their loans discharged on the basis that the government's move to close the school was the result of Corinthian's fraudulent practices. 
Initially, the Education Department wasn't sure how to proceed, but after two weeks of apparent deliberation, the decision was made that students who attended schools run by Corinthian would be eligible to have their federal student debt forgiven, a move that could cost taxpayers some $3.6 billion.
Should the government crackdown on for-profit institutions continue, the taxpayer bill could run into the tens, if not hundreds of billions. For the Education Department, it's a choice between eradicating fraud and saddling taxpayers with the bill once the schools are closed.
Because nearly 90% of students at for-profit schools have funded their education with loans, and because these institutions only exist thanks to federal funding for students, every for-profit school that's closed down represents a potential landmine for taxpayers. This, it should be noted, is just as much the government's fault as it is the schools'. Questions about the integrity of for-profit colleges have existed for years and yet the government continued to allow them to operate while their CEOs reaped millions in compensation.
Now, it's time to pay the piper and unfortunately, it's taxpayers who will end up getting the bill.
One thing we haven't discussed as of yet, is what might happen should students who do manage to land a good job after graduation decide to refi their student loans. Just as P2P lenders are eager for borrowers to refi their credit cards with P2P loans, startups backed by VCs and hedge funds (whose funding costs are basically zero thanks to ZIRP) are cherry picking the most qualified graduates and pushing them to refi their student debt at rates that are far lower than what the government charges. Bloomberg has more:
In a growing refinancing boom, a new generation of private lenders -- backed by hedge-fund billionaires and Silicon Valley royalty -- is targeting successful graduates with professional degrees and student loans. For the borrowers, "it's an uncashed lottery ticket," said Brendan Coughlin, head of education finance for Citizens Financial Group Inc.

 

There's a catch. Their good fortune could cost taxpayers billions and damage the credit quality of the government's $1.2 trillion student-loan portfolio, the biggest pool of U.S. debt, except for mortgages. That's because professional-school graduates and other borrowers with successful careers subsidize the less fortunate, who are more likely to default.

 

"Cream-skimming by private lenders will remove these profitable loans and leave mainly -- or only -- the more risky loans," said James McAndrews, executive vice president and director of research at the Federal Reserve Bank of New York...




Traditionally, the student-loan program returns money to the U.S. Treasury. Now, the exodus of its most reliable customers could lead to losses.

 

"This is one of those looming financial bills that is going to come due," said Jaret Seiberg, a Guggenheim Securities analyst. "If the best borrowers leave, taxpayers are going to have to ante up even more cash."
In other words, just as the Fed remits 'profits' from SOMA to Treasury and just as Fannie and Freddie are subject to a Treasury sweep when they turn a profit, so too does the Treasury collect from the government's student loan program (recent estimates show the US 'profiting' to the tune of $110 billion over ten years).
However, as would be the case if some "adverse scenario" were to suddenly blow a hole in Fannie and Freddie, losses on the government's student loan portfolio will ultimate be borne by taxpayers. Removing the best borrowers (i.e. the ones making payments and paying down principal) from the equation makes an already bad situation worse, as billions in interest is lost to prepayments funded by private sector refis. Here's more from Bloomberg:
Borrowers holding about $150 billion in federal loans have strong enough credit that private lenders could offer a cheaper rate, Goldman Sachs Group Inc. estimated in a March report.

 

Refinancings are likely to reduce by as much as $10 billion to $20 billion the value of the federal portfolio because of lower income from loan payments, primarily for graduate school, according to Deborah Lucas, former chief economist at the Congressional Budget Office and now a Massachusetts Institute of Technology finance professor. 

 

The situation is another consequence of historically low- interest rates, as well as a peculiarity of higher-education finance. Congress sets federal student-loan rates, and older obligations now demand as much as 8.5 percent annually. For decades, government loans undercut the private sector. Now it's the other way around.
Companies pitching the refi opportunity include SoFi, LendKey, and Earnest which together have raised hundreds of millions from VCs and, of course, from PE and hedge funds:
That number is sure to rise, since better-quality borrowers have no logical reason to stay put and subsidize others, said Vince Passione, founder of Lendkey Technologies Inc., which connects students online with private student-loan lenders. In April, an affiliate of Apollo Global Management LLC, billionaire Leon Black's private-equity investment shop, said it plans to invest $1 billion in refinanced student loans through LendKey.

 

Other big names are taking notice. A company called Earnest, which started online student-loan refinancing in January, has backing from Silicon Valley venture-capital firm Andreessen Horowitz, famed for helping seed Facebook Inc. SoFi's investors include another hedge-fund billionaire, Dan Loeb, and Peter Thiel, a co-founder of PayPal.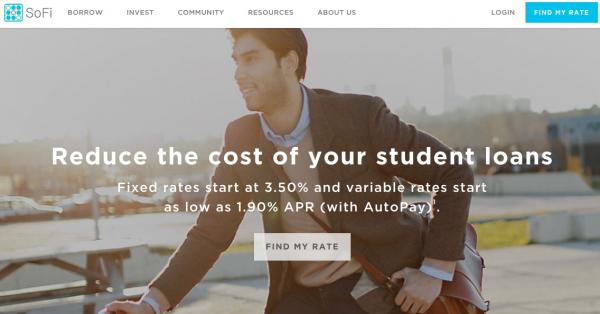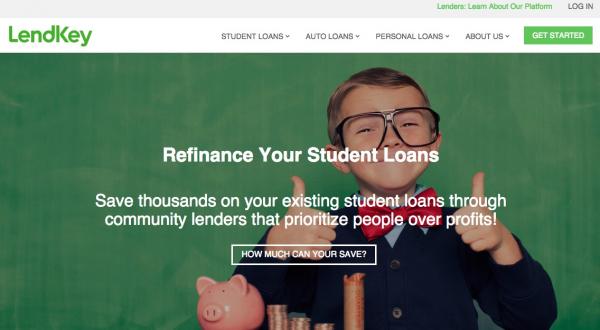 *  *  *
Putting the pieces together, we have the unintended consequences of ultra accommodative monetary policy (i.e. private lenders offering rock bottom refi rates) conspiring with both the VC world's enthusiasm for anything that even looks like P2P lending and billionaires' penchant for getting involved anywhere there's money to be made, to siphon off the best loans from the Department of Education's portfolio, leaving taxpayers with a book full of IBR enrollees and severely delinquent borrowers who aren't even thinking about making payments:
The government will be left with a greater share of borrowers like Jennifer Rejon. A 29-year-old single mother of a 10-year-old daughter, she has $17,000 in federal loans.

 

Under a federal program to help low-income borrowers, Rejon, who lives in Chicago and has struggled to find a job, isn't making payments. "I'm trying to at least get my life on track and be able to pay my bills," she said. "The loans are the last thing I'm thinking about."
Take the above and throw in a few more $4 billion for-profit debt discharge fiascos and taxpayers could be in the red on the government's student loan portfolio before the mass debt cancellations even begin.