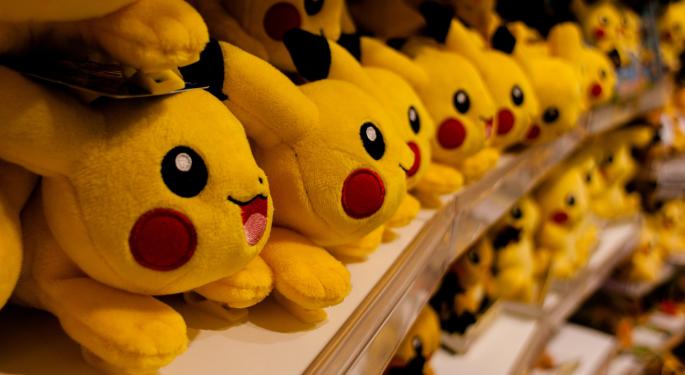 Pokémon GO is unquestionably one of the biggest hit mobile apps in history for Nintendo Co. Ltd. (ADR) NTDOY. However, the latest data from TickerTags puts the game's early success in proper context and highlights why the blockbuster game should have come as no surprise to investors.
TickerTags monitors social media sites to identify trends by searching for words and phrases that appear together in social media content, such as tweets.
On June 22, well prior to Nintendo stock's 57 percent spike in the past five trading sessions, Benzinga reported that social media data indicated Pokemon GO was going to be a massive hit.
In March and June, TickerTags' social data suggested that Pokémon GO would be one of the biggest game releases in recent history.
Just how much of a blockbuster has the game been? In the past week, organic mentions of "Pokémon " on social media were 6,405 percent higher than peak mentions of Microsoft Corporation MSFT's "Minecraft" and 12,030 percent higher than peak mentions of Activision Blizzard, Inc. ATVI's "Call of Duty" at any time in the past two years.
Incredibly, organic mentions of Pokémon have even dwarfed the highest spikes in mentions of "iPhone," "Apple," and "Xbox" by 64, 107 and 330 percent, respectively.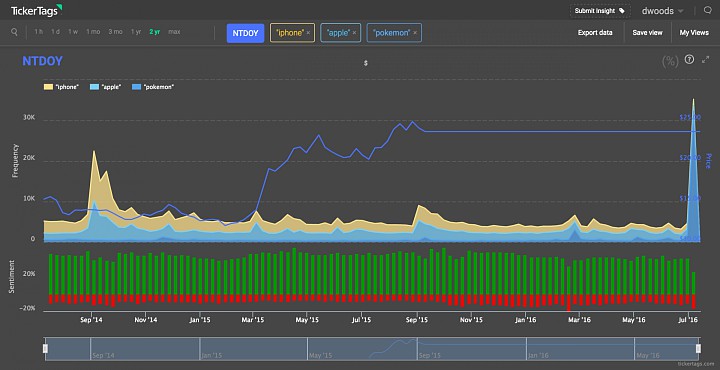 Love it or hate it, social media is certainly buzzing about Pokémon GO.
Disclosure: the author holds no position in the stocks mentioned.
© 2016 Benzinga.com. Benzinga does not provide investment advice. All rights reserved.