Всем здравствуйте!
Буду не многословен.
С точки зрения инвестиций высокие риск и ожидаемая доходность сейчас характерны для Синергии, она находится в восходящем тренде уже почти полтора года. Бумага только только оттолкнулась от линии поддержки в 1100 рублей за акцию, потенциал роста есть, первая цель является 1190 -1200 рублей (38,2% по Фибонначи). Считаю, что эту компанию можно рассмотреть на приобретение в среднесрочной перспективе.  Можно так же отметить увеличение объема в этой бумаге. Синергия перепродана в моменте, но сильная фундаментально.
Краткая информация об эмитенте:
Ассортимент выпускаемой Синергией продукции включает около 50 различных брендов крепкой алкогольной продукции. Наряду с производством алкоголя, Синергия имеет присутствие в ряде других сегментов потребительского рынка: производство мяса птицы и яиц, мясной и молочной продукции, а также морских полуфабрикатов.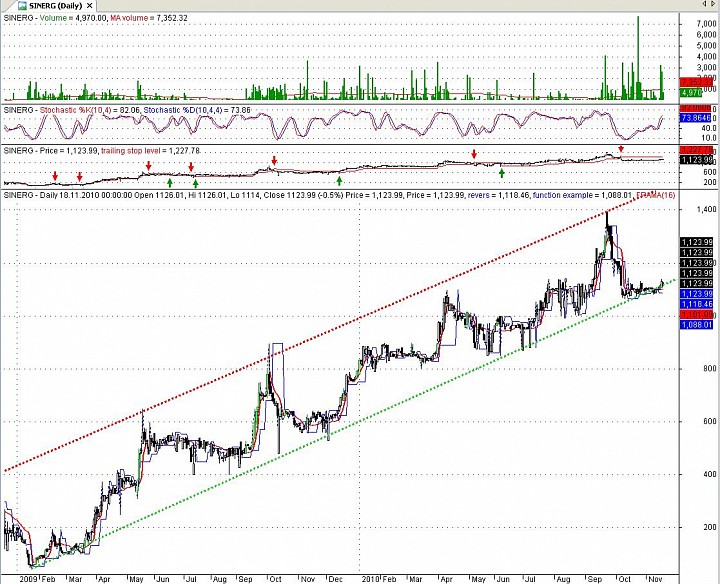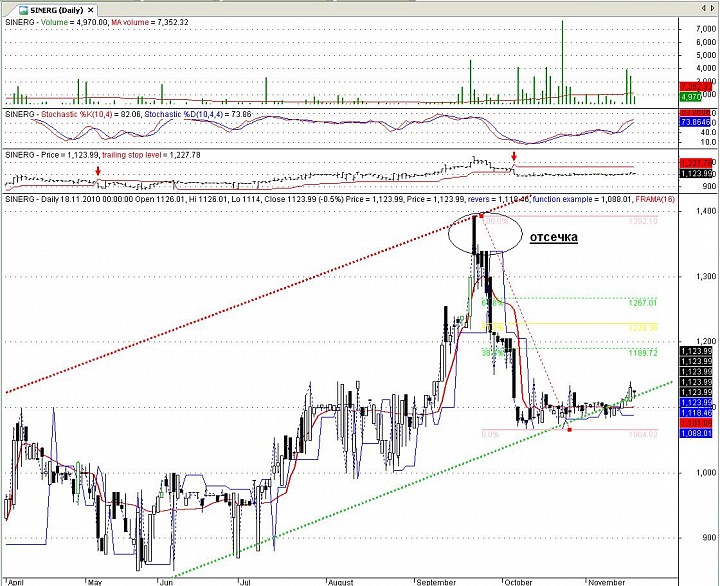 Из последних новостей:
Чистая прибыль "Синергии" по РСБУ за 9 месяцев 2010г. увеличилась в 2 раза - до 7,071 млн руб.

ОТКРЫТИЕ повысила рейтинг этой компании на "покупать"
Based upon Synergy's 3Q10 trading update and 2H10 financial results, we have updated our model for the company. We have increased our target price from $40.8 to $46.8/share, and upgraded our rating from a HOLD to a BUY. Synergy's market price weakened in the aftermath of its recent SPO, and currently has an upside potential of 30%.
Investment summary
Synergy increased its market share faster than CEDC in 1H10. Synergy's market share rose from 9.0% (YE09) to 9.9% in 1H10, outpacing CEDC. The latter's market share rose from 14.7% (YE09) to 15.1% in 1H10. For 3Q10, Synergy showed volume growth of 16% against the backdrop of a falling market.
Showing growth, in spite of a declining market. Although the overall Russian vodka market dropped about 10% in July and August due to the abnormally hot weather, Synergy's volumes were up 16% in 3Q10. The company said that its market share gains likely came at the expense of small regional producers, as well as from its primary competitors.
Synergy sold 2.9m shares for about $100m in an SPO, at the lower-end price of $36/share. The lack of extensive interest reflects some caution on the part of investors following the recent IPOs by Russian Sea and Protek, as well as the rather weak performance of another Russian vodka producer, the Russian Alcohol Group (CEDC).
$100m raised through bond placement to go to debt refinancing. Synergy raised RUB3bn through three-year bonds with a coupon of 9.75% in October. The company plans to refinance its current debt portfolio, which should decrease the effective interest rate from 12% in 1H10 to around 10% in 2H10.
Valuation
We increased our target price by 15% from $40.8 to $46.8/share. Synergy trades on a 2011E EV/EBITDA of 6.3x, which reflects a 63% discount to EM peers. At our new target price of $46.8/share, Synergy should be trading on a 2011 EV/EBITDA of 7.9x, which is still at a significant discount to EM peers.
Catalysts
Acquisition of the Veda brand. Synergy has an agreement on the production and distribution of Veda vodka. As Veda sales only began in September, we do not expect to see a significant positive impact on the company's P&L before 2011.
Risks
∙ Stricter state regulation of the vodka market, such as higher corporate income taxes, excise tax hikes, or a minimum retail vodka price.
∙ The increased market share of illegal vodka (e.g. as a consequence of the inefficient government regulation).
∙ Level of disclosure that is low relative to DM peers: Synergy reports semi-annually, unlike DM peers, which characteristically report on a quarterly basis.
С Уважением, Кирилл
Добавлено 23 ноября 2010, 16:45
Акция продолжает свой рост как и планировалось, первая цель была сегодня достигнута 1141 рублей (23.6% по Фиббоначи от падения 22.09.10). вторая цель 1190 и 1280 рублей за акции (38,2% и 50% соответственно по Фиббоначи от падения 22.09.10).
Добавлено 25 ноября 2010, 16:38
| | | | | | | | | | | | | |
| --- | --- | --- | --- | --- | --- | --- | --- | --- | --- | --- | --- | --- |
| №пп | Компания | Отрасль | BV на      31.12.2009 года | Цена на 31.12.2009 года | Р/BV, не более 1,5 раза | Ср. EPS за 3 года, 2007-2009 год | Р/Е | Р/ВV*Р/Е не более 22,5 | Цена на сегодня | Справедливая стоимость | Маржа безопасности %, не менее 50 | Рекомендация |
| 1 | 2 | 3 | 4 | 5 | 6 | 7 | 8 | 9 | 10 | 11 | 12 | 13 |
| 1 | Синергия | Алкоголь | 549,37 | 792 | 1,42 | 58,61 | 12,86 | 18,26 | 1200 | 1858,48 | 54,87 | Покупать |