Marriott Vacations Worldwide Corporation VAC operates as a vacation ownership company. The company markets and manages vacation ownership and related products under the Marriott Vacation Club and Grand Residences by Marriott brands, The Ritz-Carlton Destination Club brand, The Ritz-Carlton Residences brand.

Marriott Vacations continues to benefit from positive timeshare industry trends and has been able to maintain a steady flow of clients by offering tours to diverse locations and programs with greater outreach.

The company has been recording higher contract sales and rental revenues lately via its two major growth initiatives. The first being tours from marketing programs, namely call transfer and universal encore programs and secondly, by additional sales distributions at its new locations.

However, as the timeshare industry is extensively marketing-oriented and relies heavily on sales initiatives to attract customers, the company's increased marketing expenses have been pressurizing margins.

Investors should note that the consensus estimate for VAC has hardly witnessed any significant movement over the last 60 days. Meanwhile, VAC's earnings have been mostly positive over the past few quarters. The company has posted positive earnings surprises in three of the last four quarters. Revenues have however outpaced the Zacks Consensus Estimate in just one of the trailing four quarters.
Marriot Vacations Worldwide Corporation Price and EPS Surprise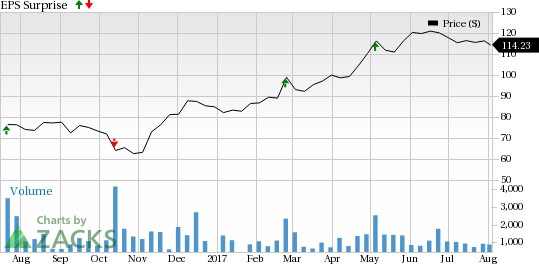 Marriot Vacations Worldwide Corporation Price and EPS Surprise | Marriot Vacations Worldwide Corporation Quote
VAC currently has a Zacks Rank #3 (Hold) but that could change following Marriott Vacations' earnings report which was just released. You can see the complete list of today's Zacks #1 Rank (Strong Buy) stocks here.

We have highlighted some of the key stats from this just-revealed announcement below:

Earnings: VAC beats on earnings. Our consensus earnings estimate called for earnings per share of $1.26 and the company reported earnings of $1.60 per share. Investors should note that these figures take out stock option expenses.

Revenues: VAC reported revenues of $497.6 million. This surpassed our consensus estimate of $489.2 million.

Key Stats to Note: In second-quarter 2017, North America volume per guest (VPG) increased 6% year over year.

Stock Price Impact: In-active in pre-market trading.

More Stock News: Tech Opportunity Worth $386 Billion in 2017

From driverless cars to artificial intelligence, we've seen an unsurpassed growth of high-tech products in recent months. Yesterday's science-fiction is becoming today's reality. Despite all the innovation, there is a single component no tech company can survive without. Demand for this critical device will reach $387 billion this year alone, and it's likely to grow even faster in the future.

Zacks has released a brand-new Special Report to help you take advantage of this exciting investment opportunity. Most importantly, it reveals 4 stocks with massive profit potential. See these stocks now>>
Want the latest recommendations from Zacks Investment Research? Today, you can download 7 Best Stocks for the Next 30 Days.
Click to get this free report
Marriot Vacations Worldwide Corporation (VAC): Free Stock Analysis Report
To read this article on Zacks.com click here.
Zacks Investment Research