Bitcoin (BTCUSD) 4H Chart 3/18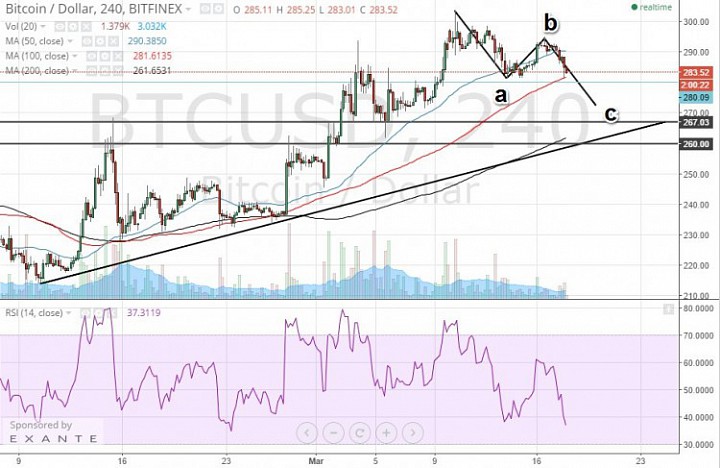 (click to enlarge)
In the 4H chart, I am showing the ABC correction scenario, where the corrective wave A and C are equal or very similar in length. If this is the case, the bearish correction has the 272-273 area in sight. Then, the RSI would probably be in the oversold territory (at or below 30). Since the prevailing trend since February has been bullish, oversold conditions should give buyers a reason to get in.
A slightly more aggressive bearish outlook would be the 260-267 area, which is a previous support/resistance area and involves the 200-period simple moving average in the 4H chart. Last but not least, this area will also contain a rising trendline from February, which reinforces this area as support. If price does reach 260-267, and the 4H RSI shows a bullish divergence, this would be another even stronger reason for buyers to come in.
In conclusion, bitcoin looks bearish in the short-term. But the backdrop is an uptrend since February (really since the low on the year around 167, made in January). Maybe we should look to buy on a dip.