Tableau Software, Inc., together with its subsidiaries, provides business analytics software products. The company sells the licensed products to its clients and provides the maintenance services as well. The company announced Q3 results yesterday and its stock grew up 20% today. 
<!== INSTRUMENT %% %1440% ==!>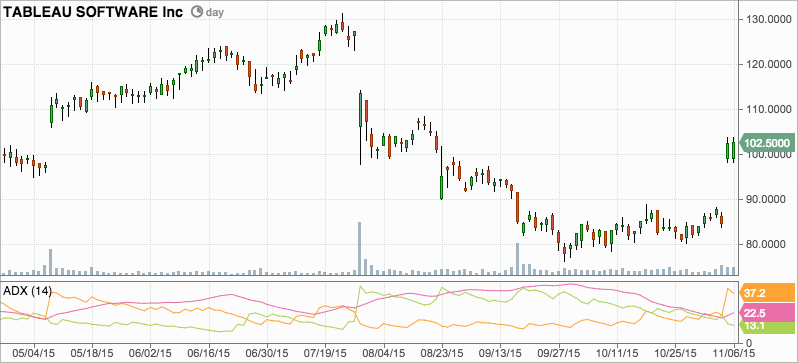 That's very curious trend, because right after the Q1 the company's stock dropped down more than 20%. Why did investors start to express an interest in #DATA? As for me this situation is absolutely unclear, here is why:
Despite the fact that Tableau Software increased its revenue significantly, the company increased its cost of sales. As of September 2014 the company had around 9.41% of revenue in the cost of products and services. As of September the same proportion (cost of sales / revenue) was around 11.55%, which is more than 2% growth;
Average revenue per account is growing, but the growth rate is slowing down. The company showed 14.37% ARPA growth rate in March 2015 in comparison with March 2014, however, if we compare nine months ended in September 2014 and 2015 we will see that the growth rate is 9.84% already. So, I assume that for this fiscal year the company will have around 7% ARPA growth;
One positive thing is that the company reduced its marketing expenses from 54.85% of revenue as of September 2014 to 52.98% as of September 2015. However, customer acquisition cost grew up from $74K (for nine months ended September 2014) to almost $80K;
Another point against the stock is that the company increased its product development costs from 28.62% of revenue to 31.97%. More than 3%, as of revenue, too high growth rate for the company that showed +20% today.
To summarize, I am really confused about this growth, because fundamentally the business is not developing. It grows, yes, but the company slowly kills its margins. What do you think about this stock?