Earlier this week, something strange happened. 
A real person - or at least he looks real - was found guilty by a jury of conspiring to manipulate LIBOR. 
Then, something even stranger took place. 
This real person - Tom Hayes, or "Rain Man" as he was affectionately known in rate-rigging circles - was sentenced to 14 years in jail for his role as the supposed "connective tissue" that held the global fix fixing infrastructure together.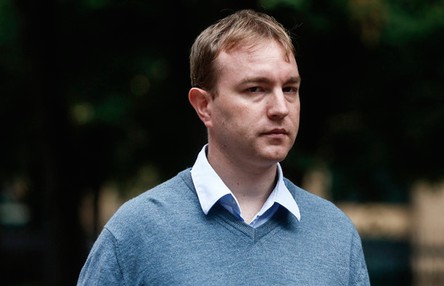 The reason this is so out of the ordinary is that we're not used to seeing human beings prosecuted for the various schemes Wall Street perpetrates on a daily basis.
Since the crisis, regulators have been at pains to convince the public they're serious about cracking down on the conspiratorial culture that's been proven to pervade nearly every corner of global capital markets. This quest is made exceedingly difficult by the fact that, well, they're not at all serious, which is why no actual people (and certainly no senior executives) are ever held accountable for anything, leaving bank logos as the only fall "guys".
This was on full display when several Wall Street firms pleaded guilty to FX rigging charges earlier this year. The punishment: fines that represented a mere fraction of the proceeds derived from the crimes themselves. 
Having said all of that, occasionally prosecutors must produce a head and unfortunately for Hayes (and Nav Sarao), his will now be proudly displayed to the angry mob as proof that justice has been served. For the Rain Main, "justice" means 14 years in HM Prison Wandsworth, which Bloomberg describes as "a Victorian fortress south of the Thames known for its poor conditions and violent residents."
And while one might well argue that bulge bracket banks are also known for having "poor conditions and violent residents," we suspect Hayes might have a bit of trouble adjusting to his new home. Never fear though, because Prison Consultants and its co-founder Steve Dagworthy are here to help. Here's more from Bloomberg:
Don't rush to make friends and don't get into debt. That's the advice of an ex-convict for Tom Hayes as he adjusts to life behind bars.

 

Hayes started a 14-year jail sentence this week after a jury found him guilty of conspiring to rig Libor, the interest-rate benchmark used to value more than $350 trillion of financial contracts.

 

"In prison, it's not about making friends," said Steve Dagworthy, an ex-convict and co-founder of Prison Consultants, a London-based agency that gives advice to prospective inmates. "It's about not making enemies."

 

Dagworthy set up the firm in 2013 after being convicted of fraud and realizing how little preparation there was for defendants facing prison time. 

 

Hayes joins another recent financial crime casualty at Wandsworth. Magnus Peterson, founder of collapsed hedge fund Weavering Capital (UK) Ltd., is in the first of a 13-year stretch for fraud. And Navinder Singh Sarao, the British trader accused of contributing to the 2010 flash crash, is being held at Wandsworth as he fights extradition to the U.S.

 

Known as "Wanno," the high-security prison is the largest in the U.K., with more than 1,600 inmates. According to a July report from HM Inspectorate of Prisons, "overcrowding and severe staff shortages" mean almost every service there is insufficient.

 

"You wake up one morning and think 'I'm in prison,'" said Dagworthy, who hasn't advised Hayes. "And that's when it hits you, and you suddenly realize that you are no longer in control of your life."

 

Since arriving at the prison on Monday night, Hayes will have had his possessions cataloged, fingerprints taken and been fitted out with a standard-form gray tracksuit and bedding. He'll shortly be moved from the induction wing to a house block, where he'll meet his cell mate, a man he'll share an open toilet with every day.

 

"You have to come to terms with the fact that you're in this new world and you have to understand the rules of this new world," said Dagworthy.

 

His advice? "Keep yourself to yourself."
We only hope that regulators have thought about whether it's a good idea to lock Hayes up alongside Nav Sarao because after all, if the charges are to be believed, these two criminal masterminds were together responsible for rigging the most important benchmark rate on the planet and sending stocks on their most harrowing intraday rollercoaster ride in history.
One can only imagine what they might dream up if left alone together in a dark prison to commiserate and plot for more than a decade.