Colgate-Palmolive Co. (CL - Free Report) posted adjusted earnings of 72 cents a share, in line with the Zacks Consensus Estimate and up 3% from 70 cents earned in the prior-year quarter.
Visualization by Graphiq
Including one-time items, earnings came in at 59 cents a share compared with 67 cents reported in the year-ago period.
Despite earnings beat, Colgate's shares are down 2.3% during pre-market trading hours, as investors remained skeptical about the company's top-line performance that fell short of expectations for the fifth straight quarter. In fact, in the last three months, the stock has declined 2.1% compared with the broader industry's growth of 2.9%.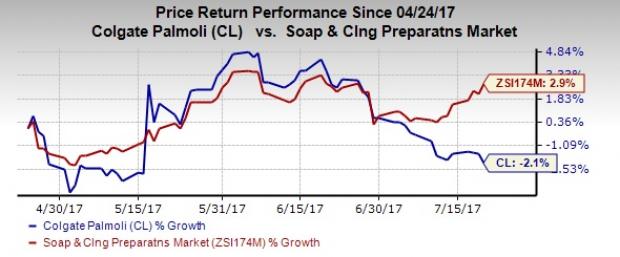 Deeper Insight
Total sales of $3,826 million dipped 0.5% from the year-ago period and came below the Zacks Consensus Estimate of $3,885 million. The benefits of 1% increase in prices were offset by a 1% drop in global unit volumes and a negative impact of 0.5% from currency fluctuations.
On an organic basis (excluding foreign exchange, acquisitions, and divestitures), the company's sales were flat with last year. The flat results were due to the persistence of softness in North America and challenges in Asia-Pacific. This was considerably mitigated by strong organic sales growth in Latin America and the return to positive organic sales growth in Hill's Pet Nutrition.
Adjusted gross profit margin was 60.7%, up 50 basis points (bps), driven by benefits of cost-saving initiatives under the company's funding-the-growth and 2012 Restructuring Program, along with better pricing. These were partly neutralized by increased raw and packaging material expenses, including currency exchange transactions costs.
In the reported quarter, adjusted operating profit of $995 million dipped 1%, with the adjusted operating margin contracting 10 bps to 26% on 40 bps increase in adjusted selling, general & administrative expenses as a percentage of sales, offset by improved gross margin.
Year to date, Colgate's market share of manual toothbrushes has reached 32.8%. Further, the company continued to lead with market share in the global toothpaste with a gain of 43.6% year to date.
Segment Discussion
North America net sales (20% of total sales) fell 3.5%, reflecting a 2% drop in...
More