(Reuters) The Bank of Japan expanded stimulus on Friday by doubling purchases of exchange-traded funds (ETF), yielding to pressure from the government and financial markets for bolder action, but disappointing investors who had set their hearts on more audacious measures.
The central bank, however, said it will conduct a thorough assessment of the effects of negative interest rates and its massive asset-buying program in September, suggesting that a major overhaul of its stimulus program may be forthcoming.
BOJ Governor Haruhiko Kuroda said the bank was conducting the review not because its policy tools have been exhausted but to come up with better ways to achieve its 2 percent target - keeping alive expectations of further monetary easing.
"I don't think we've reached the limits both in terms of the possibility of more rate cuts and increased asset purchases," Kuroda told reporters after the policy meeting.
"We will of course consider what to do in terms of monetary policy steps, based on the outcome of the assessment."
At the two-day rate review that ended on Friday, the BOJ decided to increase ETF purchases so its total holdings increase at an annual pace of 6 trillion yen ($58 billion), up from the current 3.3 trillion yen. The decision was made by a 7-2 vote. (Full article on Reuters)
Yen Reaction:
Usually when the central bank eases and suggests further easing is on the table, the home currency would fall. However, the Japanese yen mostly gained across the board after the BoJ policy announcement. This suggests that the market was looking for even more stimulus.

USD/JPY 1H Chart 7/29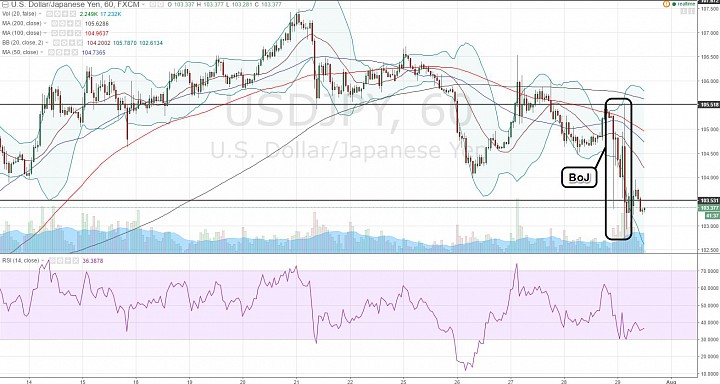 (click to enlarge)

Whipsaw reaction:
- The 1H chart shows increased volatility around the time that the BoJ announced its monetary policy. 
- Eventually after a violent up and down battle, it looks like bears won the fight. 

Prevailing bearish bias:
- Note that USD/JPY was already retreating as it entered the week.
- Also note that other than the short-term upswing in the middle of July, USD/JPY has been bearish since late 2015. (refer to the daily chart.)
- The RSI held under 60 in the daily chart, suggesting maintenance of the prevailing bearish momentum. 
- Finally, price action is still under the 200-, 100-, and 50-day simple moving averages (SMAs), suggesting that the prevailing bearish bias is still intact. 

With the prevailing bearish trend intact, USD/JPY has downside at least back towards the 100.00 psychological level if not further lower.

USD/JPY Daily Chart 7/29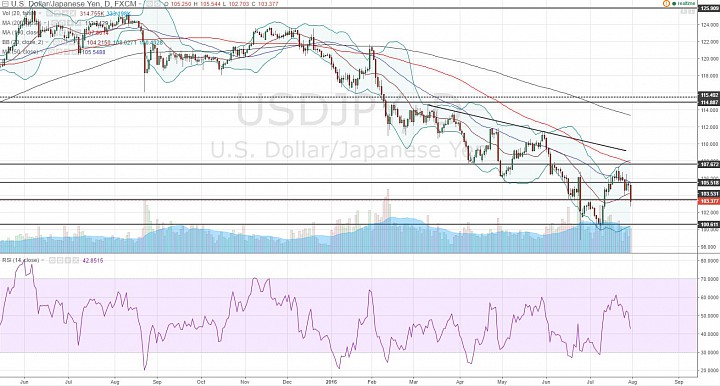 (click to enlarge)