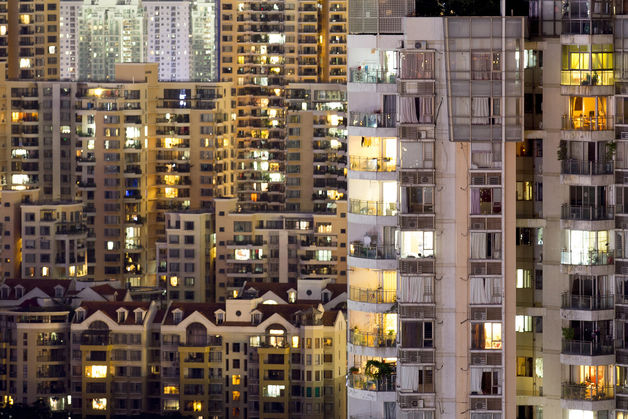 Photographer: Brent Lewin/Bloomberg

China's four biggest banks may ease mortgage lending, the latest in a series of policy steps aimed at supporting the country's sliding property market, the 21st Century Business Herald reported yesterday.
Criteria for loans to first-home buyers may be eased and people who have paid off outstanding mortgages may be considered eligible for first-home status, the newspaper said, citing unidentified people at Industrial & Commercial Bank of China Ltd. (601398) and Agricultural Bank of China Ltd. (601288)Executives at Bank of China Ltd. met yesterday to discuss adjusting mortgage policies, according to the report, citing an unidentified person. The report didn't say if the change applied to those who already own more than one home.
Tight credit is damping housing demand even after the central bank on May 13 called on the biggest lenders to accelerate the granting of mortgages. While 37 of the 46 cities that imposed limits on home ownership since 2010 had removed or eased such restrictions as of Sept. 3 to stem the decline in sales, many homebuyers still have a wait-and-see attitude, according to Centaline Group, parent of China's biggest property agency.
"This reported property policy loosening marks the first major relaxation of mortgage lending rules, which should effectively lower both the down payment requirement and mortgage rates for some second home buyers," UBS economists led by Hong Kong-based Wang Tao wrote in a report today, adding more easing is likely. "We expect these measures to help ease the property market downturn to an extent, but not to reverse the downtrend or drive through a visible rebound."
Down Payments
Bank of China and Agricultural Bank declined to comment. ICBC and China Construction Bank Corp. (939) were not immediately available for comment. The central bank didn't immediately reply to faxed questions.
China raised the minimum down payment for second homes to 60 percent with higher interest rates, and suspended third-home mortgages in a four-year campaign to curb property speculation that had driven up housing prices. Beijing, Shanghai, Guangzhou and Shenzhen, known as "first-tier" cities, lifted the requirement further to 70 percent last year after prices jumped. First-home buyers are allowed to pay only 30 percent up front, and are eligible for mortgage-rate discounts of as much as 30 percent the central bank's benchmark.
Strict Curbs
In Beijing, at least 70 percent of homebuyers who are currently deemed second-home buyers may qualify for first-home status if the reported policy changes take place, according to Wu Hao, a manager at the loan brokerage of Bacic & 5i5j Group, the city's second-biggest realtor for existing homes. The city is the most strict with the curbs, treating all mortgage applicants who ever owned a home or borrowed money as second-home buyers even if they've sold their only home or paid off their only mortgage, she said.
The loosening will benefit first-tier cities the most, where the definition of first-home buyers has been most strictly applied, according to Jinsong Du, a Hong Kong-based property analyst at Credit Suisse Group AG. The move will also raise investor expectations for more policy support, he said.
A gauge tracking Shanghai-listed developers rose 0.6 percent as of 2:24 p.m. local time.
Home prices dropped in August from July in 68 of 70 cities tracked by the government, including in Beijing and Shanghai, the National Bureau of Statistics said Sept. 18, the most since January 2011, when China changed the way it compiles the data.
Mortgage Discounts
Mortgage-rate discounts on first homes have been rare since last year after banks tightened lending as competition for deposits intensified and default risks climbed. In Beijing and Shanghai, first-homemortgage rates were the same as the benchmark rate in July, and in Guangzhou they were 5 percent to 10 percent higher than the benchmark rate, according to Centaline.
A Chinese bank will consider buyers as first-home buyers if they pay off outstanding mortgages, and will ease restrictions on second-home purchases, the Shanghai Securities News reported today, citing an unidentified official from the bank. The newspaper didn't identify the bank or provide details about the changes.
Fuzhou, capital of the southeastern province of Fujian, said yesterday people who have paid off loans could be considered first-time home buyers and enjoy preferential rates, according to a statement on local government's website.