Beyond multiple expansions driven by liquidity, sales and earnings drive stocks.
Of the two, sales are most important for determining economic conditions. Earnings can be massaged any number of ways. However, sales cannot. Either the money came in the door or it did not.
Unfortunately for the bulls, sales are falling.
1Q15 sales came in 2.4% below 1Q14. And the trend has not improved since that time.
General Electric (GE), JP Morgan (JPM), Microsoft (MSFT), IBM (IBM), Citigroup (C), Johnson & Johnson (JNJ), Intel (INTC), Coke (KO), Oracle (ORCL), Honeywell (HON), Goldman Sachs (GS), and American Express (AXP) have all reported a decline in Year Over Year sales for the second quarter of 2015.
These companies are not unique. Across the board S&P 500 companies are posting a 4% drop in revenues.
Sales are not the only metric that is tanking.
Annual corporate earnings fell last year for the first time since we entered the so-called "recovery" in 2009. This is pretty incredible when you consider the sheer amount of buybacks and other accounting gimmicks used by corporations to boost their profits.
Indeed, a study performed by Duke University found that roughly 20% of publicly traded firms manipulate their earnings to make them appear better than they really are. The folks who were surveyed for this study about this practice were the actual CFOs at the firms themselves.
All of this gimmicky has resulted in corporate profits trading at an all time high relative to US GDP. Profits literally have nowhere to go but down as corporations have cut costs to the bone and juiced earnings through buybacks and leveraged buybacks (issuing debt to buy shares).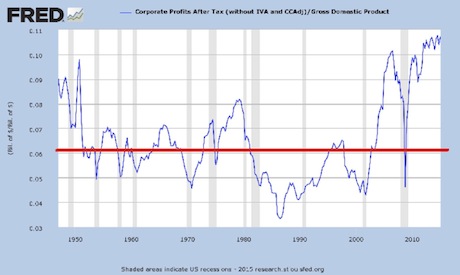 Put simply, both sales and earnings are rolling over… at a time when the S&P 500 is close to all-time highs. This is a recipe for a correction if not a crash.
If you've yet to take action to prepare for this, we offer a FREE investment report called the Financial Crisis "Round Two" Survival Guide that outlines simple, easy to follow strategies you can use to not only protect your portfolio from it, but actually produce profits.
We are making 1,000 copies available for FREE the general public.
We are currently down to the last 15.
To pick up yours, swing by….
http://www.phoenixcapitalmarketing.com/roundtwo.html
Best Regards
Phoenix Capital Research