Energizer Holdings, Inc. ENR reported strong fiscal fourth-quarter 2017 results. Adjusted earnings of 54 cents per share and revenues of $465.1 million comfortably beat the Zacks Consensus Estimate of 48 cents and $436.4 million, respectively.
The year-over-year revenue growth was boosted by increased organic net sales of 7.5% (including of hurricane volumes). Excluding hurricane volumes, organic revenues rose 3% year over year, added the company.
Quarterly Details
Batteries revenues grew 9.2% year over year to $409.4 million while revenues from Other segment fell 3% to $55.7 million.
Energizer Holdings, Inc. Price, Consensus and EPS Surprise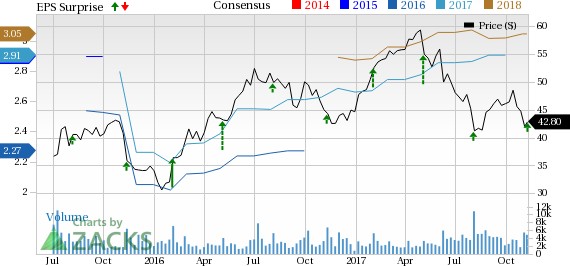 Energizer Holdings, Inc. Price, Consensus and EPS Surprise | Energizer Holdings, Inc. Quote
In Americas, the company recorded revenues of $299.6 million, up 7.2% from last year's quarter. Revenues from Europe, the Middle East and Africa region were $92.4 million, up 12.1%. The Asia Pacific region recorded revenue increase of 3.7% year over year to $73.1 million.
Gross margin decreased 270 basis points (bps) to 46%. Selling, general and administrative expenses as a percentage of net sales were 20.7% compared with 21.5% reported in the year-ago quarter.
As of Sep 30, 2017, Energizer had cash and cash equivalents of $378 million compared with $287.3 million as of Sep 30, 2016. Long-term debt was $978.5 million compared with $981.7 million as of Sep 30, 2016.
For the fiscal ended Sep 30, 2017, cash flow from operations was $197.2 million. Free cash flow amounted to $199.2 million.
As of Sep 30, 2017, the company had repurchased shares worth $58.7 million. Dividend payments in the year were approximately $69.1 million.
Guidance
For fiscal 2018, Energizer now expects earnings per share in the band of $3.00–$3.10.
Organic revenues are expected to be up in low-single digits. Moreover, favourable forex movements will boost sales of the company by 1%–1.5%.
Gross margin is expected to be flat as increased commodity costs and lithium pricing offset benefits of improved pricing.
Capex is expected in the range of $30–$35 million. Free cash flow is expected to to be in the band of $210 to $220 million.
Zacks Rank & Stock Price Movement
Currently, Energizer carries a Zacks Rank #2 (Buy). You can see the complete list of today's Zacks #1 Rank (Strong Buy) stocks here.

In the last year, shares of Energizer have declined 4.1% compared with the S&P 500's rally of 15.7%.
Other Stocks to Consider
Top-ranked stocks in the broader technology sector include NVIDIA Corporation NVDA Applied Materials AMAT, and Jabil Inc JBL. While Jabil sports a Rank #1, NVIDIA Corp and Applied Materials is a Zacks Rank#2.
Long-term earnings growth rate for NVIDIA, Applied Materials and Jabil is currently projected to be 11.2%, 17.1% and 12%, respectively.
Today's Stocks from Zacks' Hottest Strategies
It's hard to believe, even for us at Zacks. But while the market gained +18.8% from 2016 - Q1 2017, our top stock-picking screens have returned +157.0%, +128.0%, +97.8%, +94.7%, and +90.2% respectively.
And this outperformance has not just been a recent phenomenon. Over the years it has been remarkably consistent. From 2000 - Q1 2017, the composite yearly average gain for these strategies has beaten the market more than 11X over. Maybe even more remarkable is the fact that we're willing to share their latest stocks with you without cost or obligation.
Want the latest recommendations from Zacks Investment Research? Today, you can download 7 Best Stocks for the Next 30 Days.
Click to get this free report
Energizer Holdings, Inc. (ENR): Free Stock Analysis Report
NVIDIA Corporation (NVDA): Free Stock Analysis Report
Applied Materials, Inc. (AMAT): Free Stock Analysis Report
Jabil Circuit, Inc. (JBL): Free Stock Analysis Report
To read this article on Zacks.com click here.
Zacks Investment Research