Bellicum Pharmaceuticals, Inc. (BLCM) is a clinical-stage biopharmaceutical company. The Company is focused on discovering and developing cellular immunotherapies for various forms of cancer, including hematological cancers and solid tumors, as well as orphan inherited blood disorders. The Company uses its chemical induction of dimerization (CID) technology platform to engineer and then control components of the immune system. The Company is developing next-generation product candidates in the areas of cellular immunotherapy, including hematopoietic stem cell transplantation (HSCT), chimeric antigen receptors (CAR) T cells therapy and T-cell receptor (TCR) cell therapies. It is reporting earnings on Monday, August 8, after market close: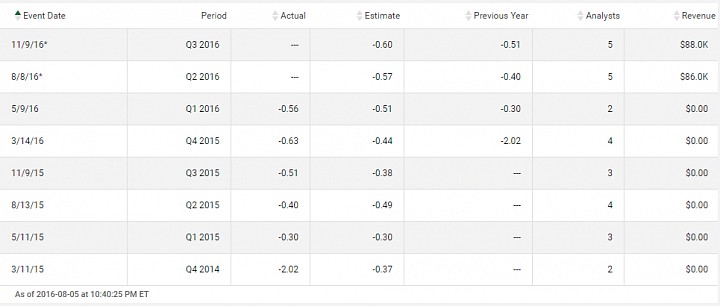 As evident from the above, the company beat earnings estimates in 16% of time in the last six quarters, underperforming or showing in-line results in the rest of time, and has seen substantial volatility in the market price of its stock over the last three months:
<!== INSTRUMENT %% %1% ==!>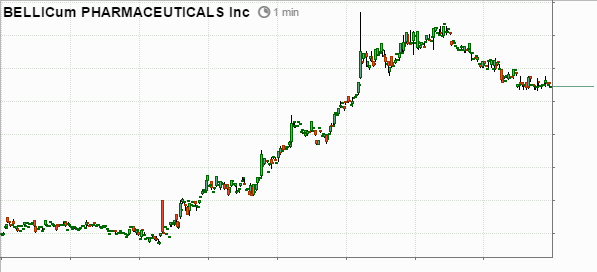 The market participants expect the following numbers over the next few quarters, including the upcoming one: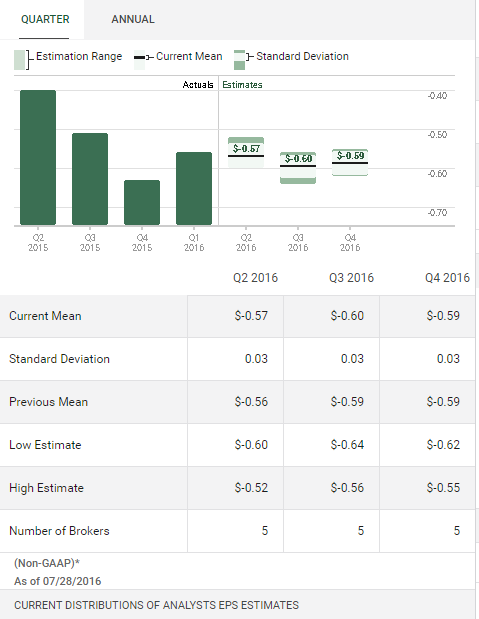 (Source: TD Waterhouse)
Market data show that the August options are a bit undervalued: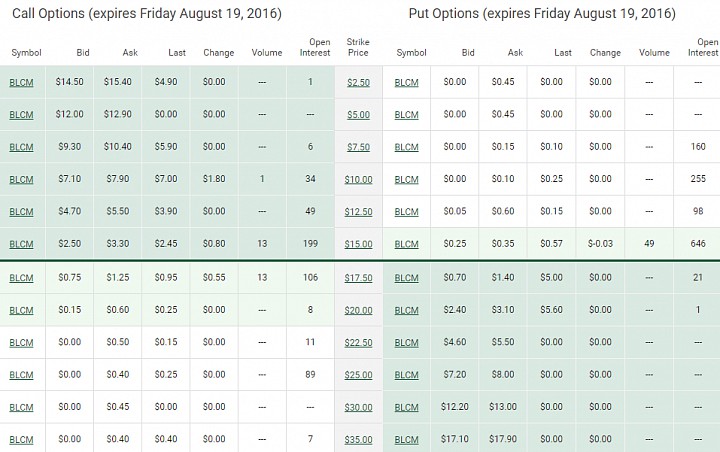 (Source: TD Waterhouse)
The two-week straddles (options with a strike price of $17.50 and expiring on August 19, 2016) are worth around 11.5% of the current market price of the stock. Historically, the stock has been more volatile than that on a monthly basis over the last year:

(Source: Google Finance. Calculations by author)
As you can see, the stock has had a monthly standard deviation of 22.3% over the last 52 weeks, while the straddle expiring in a bit less than three weeks has an implied monthly volatility of around 15.8% (calculated based on 10 business days remaining until expiration), also including volatility from the earnings event next week. I therefore see signs of modest undervaluation in these options. Hence, selling the straddles is a good idea from a theoretical standpoint.
Investors may also be interested in selling call options against the stock to lower the cost basis of their holdings:

(Source: optionsprofitcalculator.com)
On the one hand, this will limit expected returns. On the other hand, this action will minimize losses in the event the stock goes south over the next two weeks. The risk-return profile of this trade looks like this: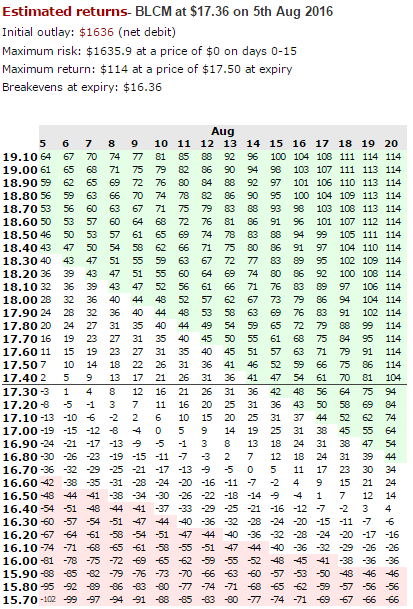 (Source: optionsprofitcalculator.com)
As you can see from the above illustration, Bellicum's investors can pocket a 150% annualized return in these two-week calls. On the other hand, if the stock goes higher than $17.50 per share (an increase of around 1%) in the next two weeks, they will get a 150%+ annualized return (the premium from the calls and the upside from the stock up to $17.50 per share).