In an interesting change of events, production at four of the top primary silver miners plummeted during the second quarter of 2017. This goes well beyond normal fluctuations in mining companies production figures during different quarterly reporting statements. The company with the least percentage decline in silver production still suffered a 20% reduction of mine supply in the second quarter.
According to the recently released information from these four companies reports, silver production declined between 20-34% during the second quarter. The company that suffered the biggest decline was Hecla at -34%, followed by Endeavour Silver at -26%, Silver Standard at -24% and First Majestic with a decline of 20%: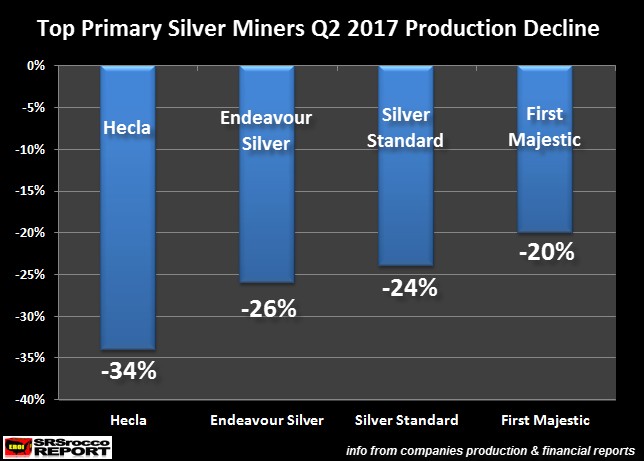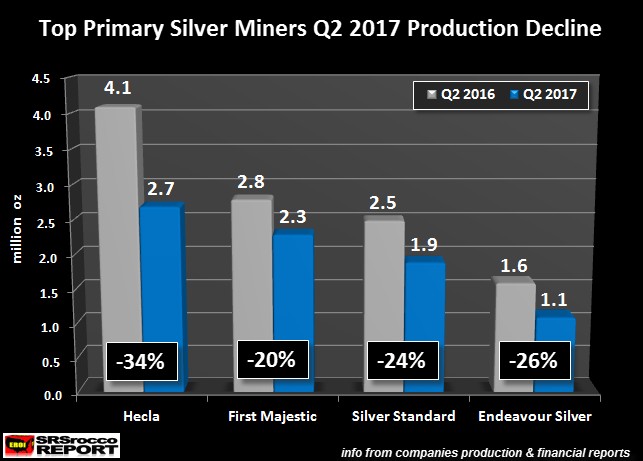 As we can see, Hecla suffered the largest decline in silver production of a -34% due to a mining strike at its Lucky Friday Mine in Idaho. Production at the Lucky Friday Mine has been suspended since a workers strike started at the mine on March 13th. Furthermore, Hecla's Green Creek Mine in Alaska saw its silver production decline from 2.1 Moz Q2 2016 to 1.9 Moz Q2 2017 due to falling ore grades.
The next largest percentage decline in silver production was from Endeavour Silver. Production at Endeavour Silver fell from 1.6 Moz in the second quarter of 2016 to 1.1 Moz in Q2 2017. This 26% decline in silver mine supply was blamed on several factors:
Reduction in capital and exploration expenditures in the beginning of 2016 due to lower silver prices, but the company has increased spending once again in the second half of 2016
narrowing veins, falling ore grades and less ore processing due to a reduced capital expenditures in the beginning of 2016
less access to mine areas as pump failures due to power overloading caused flooding in some working areas
This huge decline in silver production at Endeavour Silver, plus falling earnings, impacted its stock price which fell 16% in one day after the news.
Silver Standard which suffered a -24% decrease in silver production saw its mine supply fall...
More