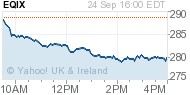 BRUSSELS, Sept 25 (Reuters) - The following are mergers under review by the European Commission and a brief guide to the EU merger process:
APPROVALS AND WITHDRAWALS
-- Apollo Global Management LLC to acquire magnetic and battery technologies company OM Group Inc (NYSE: OMG - news) (approved Sept. 24)
-- Private equity firm Apollo Management to acquire British restaurant operator Casual Dining Group (approved Sept. 24)
-- Spanish builder Sacyr to acquire a 50 percent stake in Fluor Spain from U.S (Other OTC: UBGXF - news) . engineering group Fluor Corp (approved Sept. 24)
NEW LISTINGS
-- U.S. data center operator Equinix (NasdaqGS: EQIX - news) to acquire British peer Telecity Group (LSE: TCY.L - news) (notified Sept. 24/deadline Oct (HKSE: 3366-OL.HK - news) . 29)
EXTENSIONS AND OTHER CHANGES
-- U.S. office supplier Staples (NasdaqGS: SPLS - news) to acquire U.S. rival Office Depot (NasdaqGS: ODP - news) (notified Aug. 21/deadline extended to Feb. 10 from Sept. 25 after the European Commission opened an in-depth investigation)
FIRST (Other OTC: FSTC - news) -STAGE REVIEWS BY DEADLINE
OCT 2
-- Private equity firm Providence Equity Partners LLC to acquire British marketing company Chime Communications plc (LSE: CHW.L - news) (notified Aug. 28/deadline Oct. 2/simplified)
OCT 5
-- Cable telecoms company Liberty Global (NasdaqGS: LBTYA - news) 's Belgian subsidiary Telenet (Other OTC: TLGHF - news) to buy mobile network operator Base from Dutch group KPN (notified Aug. 17/deadline extended to Oct. 5 from Sept. 21 after Liberty Global offered commitments)
-- German IT services provider Interseroh and Also Deutschland to set up a joint venture (notified Aug. 31/deadline Oct. 5/simplified)
OCT 7
-- German car parts maker KSPG and China's Huayu Automotive Systems Co Shanghai/People's Republic of China (Hasco) to jointly acquire a business in the Chinese car aluminium casting sector (notified Sept. 2/deadline Oct. 7/simplified)
OCT 9
-- French airports operator Aeroports de Paris (Other OTC: AEOXF - news) and British catering services provider Select Service Partner Group to form a joint venture (notified Sept. 4/deadline Oct. 9/simplified)
-- British real estate private equity firm Benson Elliot Capital Management and U.S. private equity investment firm Walton Street Capital...
More