La-Z-Boy (LZB) is known for its reclining chairs. Today, however, it's being talked about for its declining shares.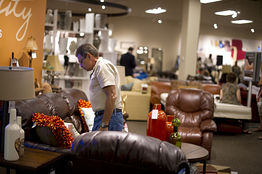 Shares of La-Z-Boy have tumbled $25.43 at 11:20 today after reporting dismal financial results. La-Z-Boy reported a profit of 24 cents, missing forecasts for 29 cents, on sales of $357.1 million, just below analyst expectations for $358 million.
Raymond James analyst has further details on La-Z-Boy's results:
We reaffirm our Market Perform rating on LZB following the La-Z-Boy's F1Q18 results, released after the market close on Tuesday afternoon. F1Q18 sales increased ~4.8% y/y to $357 million, versus our $359 million estimate and the $358 million consensus. Reported EPS of $0.24, however, widely missed our $0.31 and consensus $0.29 estimates and fell $0.04 below last year. In addition, F1Q18 reported EPS included a $0.03 benefit (~$2.2 million pretax) in ''other income'' (below the EBIT line) as a result of an investment gain. Recall, EPS last year in F1Q17 included a $0.03 benefit from a legal settlement. Excluding the investment gain, La-Z-Boy reported F1Q18 EPS of ~$0.21 versus $0.31 RJE. Not surprisingly, after-market indications (down ~14%) registered an early disapproval for La-Z-Boy's reported results.
Disapproval? That's putting it kindly.
More