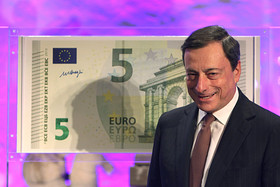 AFP/Getty Images
Mario Draghi, president of the European Central Bank.

European stocks turned lower Monday, with the region's benchmark pulling away from record highs, giving up gains that followed the release of encouraging economic data earlier in the session.
The Stoxx Europe 600 SXXP, -0.23% swung down by 0.2% to close at 391.29, as energy, consumer goods and industrial shares traded in the red.
Stocks had been slightly higher earlier in the session after data firm Markit's final February reading of manufacturing activity data for the eurozone confirmed modest growth, with the purchasing manufacturer's index holding steady at 51.0.
But following a strong run for European stocks as of late, investors are seizing the opportunity to book gains ahead of the European Central Bank's meeting on Thursday and the closely watched monthly U.S. jobs report due Friday, said Fawad Razaqzada, technical analyst, at Forex.com. The Stoxx 600 on Friday notched its highest close since July 2007, and ended with a February advance of 6.9%. The index also finished last week with its fourth consecutive weekly advance.
"The low and negative interest rates in the eurozone are driving investors to assets that have higher dividends" compared with other assets, Razaqzada said. "Government bond yields are falling to historically low levels and equities are the only asset at the moment that are providing decent returns, helping to keep markets elevated." 
Also on Monday, the European Union's statistics agency said consumer prices in the eurozone were 0.3% lower than in February 2014. The decline was slower than a consensus projection of a drop of 0.4%. Eurostat also said the eurozone's unemployment rate fell to 11.2% in January from 11.3% in December, its lowest since April 2012.
"There are some optimistic economic signs emerging in Europe, which won't in any way stop the ECB from easing," wrote Chris Weston, chief market strategist at IG, in a note. "When combined with a weakening euro, it almost seems like the perfect storm for equity appreciation."
http://www.marketwatch.com/story/european-stocks-cling-to-mu...