Soybeans showed the direction first in agri space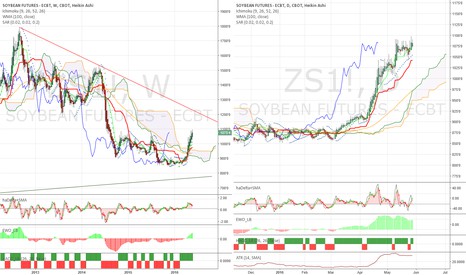 Weekly:
- Ichimoku setup is bullish , with some resistances ard 1100 and 1150! Chikou also hits past thick Kumo cloud.
- Heikin-Ashi has been extremely powerful for 8-10 weeky, but now haDelta shows some loss of extreme momentum.
- Pull back to 1000+ can happen... if we are lucky... as there for sure we'll have t look for long entry again!

Daily:
- Wonderful trend in Ichimoku . Price has been clearly above Kijun Sen since start of March!
- Heikin-Ashi setup has bullish bias, but candle pattern and haDelta may tell us the story of a possible local top building here.

Do not short this market! No top hunting! We rather have to watch for buy signals ard 1000-1025 support zone.