One look at BofA's earnings report shows why contrary to popular opinion, the bank that bailed out insolvent Merrill Lynch is far better off to be pnealized with tens of billions in legal fees than running its business unbothered by the racketeering government. The reason: a year after BofA reported $6 billion in litigation charges, moments ago Bank of America announced only $0.4 billion in legal fees, which meant it barely had any credible addbacks. So when looking at its numbers on a realistic, GAAP basis, BofA once again missed EPS, with the bottom line printing at $0.27, or below the $0.29 estimate.
Of course, since the estimate was established by other bank analysts who are desperate to get credit for their own addbacks, the number which management hopes algos focus on is the $0.36 non-GAAP pro forma net of addbacks.
As BofA reports, first quarter 2015 reported earnings per diluted common share of $0.27. However, "Pre-tax results included the following items:"
$1.0B annual retirement-eligible incentive costs, or $0.06 per share (recorded in both 1Q15 and 1Q14)
$0.5B negative market-related adjustments to net interest income, or $0.03 per share, driven by the acceleration of bond premium amortization on debt securities due to lower long-term rates
It was unclear if the above are non-cash and why they should be therefore added back, especially since with BofA nothing is "non-recurring."
The breakdown was as follows: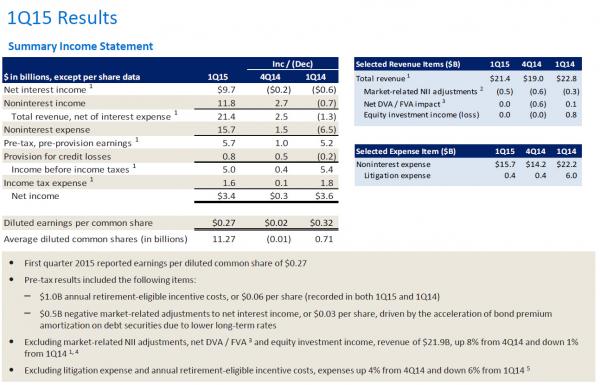 Of note: even in a quiet quarter, BofA still suffered $400 million in litigation expenses. In fact, it is safe to say that being sued is ordinary course of business for BofA now.
Once again, as was the case with JPM, the layoffs continue, and BofA's total headcount declined by 4,000 in the past quarter to just under 220,000, down 18,000 from a year ago.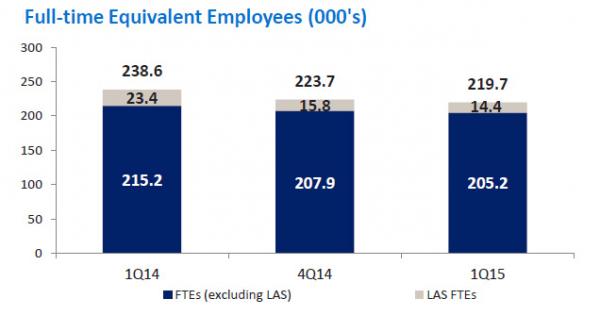 But why is BofA so pessimistic about its long-term prospects? Three reasons.
The main reason is that total loan creation - that lifeblood of conventional banking - continues to deteriorate. As BofA reports, "total loans and leases declined $3.4B from 4Q14, driven primarily by a reduction in residential mortgages in the discretionary portfolio and seasonal card decline, partially offset by an increase in Global Banking and Global Wealth & Investment Management (GWIM) lending."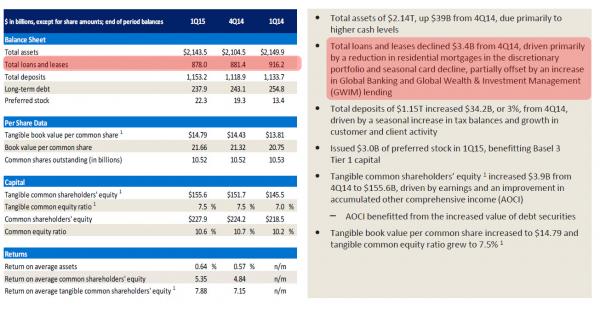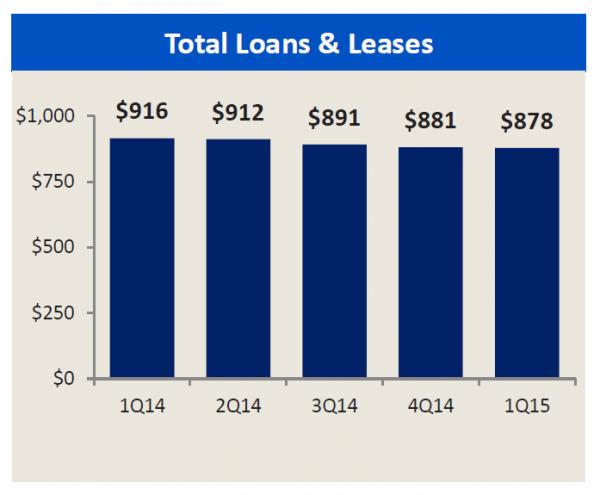 Paradoxically, the offset, deposits, continues to increase: "Total deposits of $1.15T increased $34.2B, or 3%, from 4Q14, driven by a seasonal increase in tax balances and growth in customer and client activity."
* * *
Reason #2: Sales and Trade, and specifically FICC, revenue continues to deteriorate.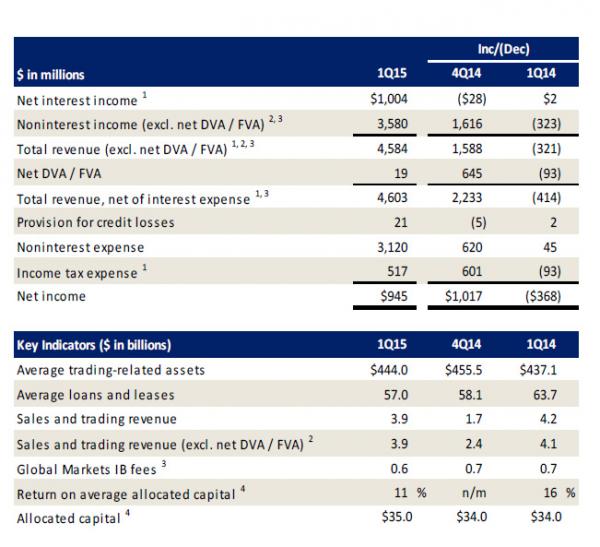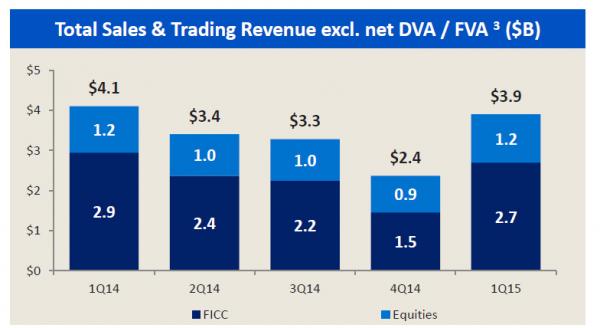 What BofA blamed for this latest disappointment:
Net income of $0.9B in 1Q15 declined from 1Q14, due primarily to lower sales and trading results in FICC
FICC revenue declined $0.2B, or 7%, from 1Q14, reflecting business mix weighting towards spread products, primarily credit and mortgages, which experienced lower client activity; decline was partially offset by post-merger record FX results due to increased market volatility
* * *
Finally, and this won't get better any time soon, or ever, BofA' reported Net Interest Margin just dropped to another record low, meaning the bank is stuck trading massively overbought risk assets if its wants to keep generating profits.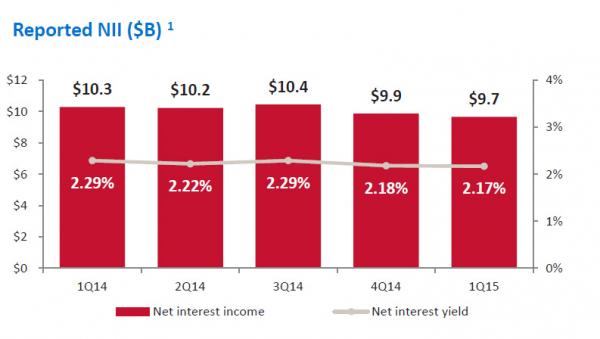 Expect the algos to catch none of the above and to close the stock solidly higher.
Full presentation below