The daily EUR/CHF chart shows a market that has been bearish in 2014, falling from 1.2394 to 1.2113. It has then been consolidating, with a high in April near 1.2250. The moving averages are in bearish alignment and price is still below them. The RSI has tagged 30, and has since stayed below 60. These are all signs of the bearish bias in the daily chart.

Today, EUR/CHF is showing a bullish attempt. The daily chart shows an attempt to break the 2014-trendline, and its July consolidation range resistance at 1.2165.
A break above 1.2165 with the 4H RSI pushing above 70 can open up the next support/resistance pivot around 1.2194. This bullish outlook improves if there is a pullback that holds above the 1.2150-55 area. 1.2145-50 is the central pivot area of the current range. It is also a support/resistance pivot and where the 100-, and 50-period SMAs are in the 4H chart. If price were to drop back below 1.2145, we price is likely focused back to the 1.2133 July-low and the 1.2113 low on the year.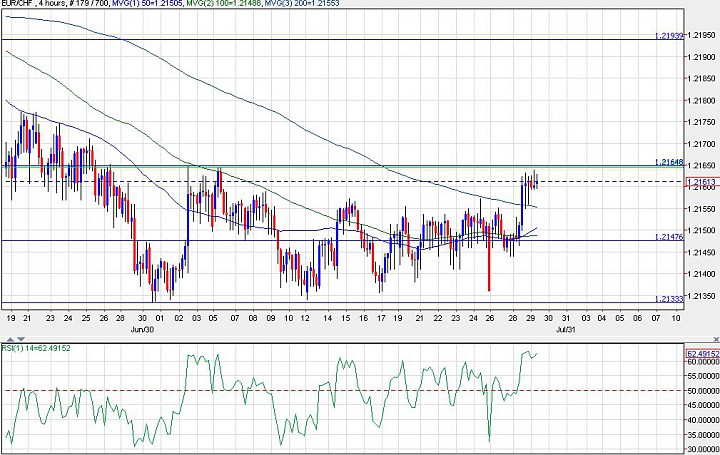 (eurchf 4h chart, 7/30)