Another weekend of glad-handing and Sunday talk-shows and still The Donald dominates the GOP Presidential nominee race. With all eyes firmly glued on this week's debate, Trump had a few choice words for those who attended the Koch brothers' biannual conference (which he was not invited to), tweeting "I wish good luck to all the Republican candidates that traveled to California to beg for money etc. from the Koch Brothers... Puppets?" As WSJ reports, Mr. Trump poses a more delicate short-term challenge for the GOP, thanks to high name recognition, celebrity appeal and a populist message that taps a powerful anti-Washington vein.  "I don't think you should underestimate how frustrated people are," Florida Sen. Marco Rubio said Sunday during a lunch at the Koch gathering. "Mr. Trump has tapped into some of that."
Still ahead...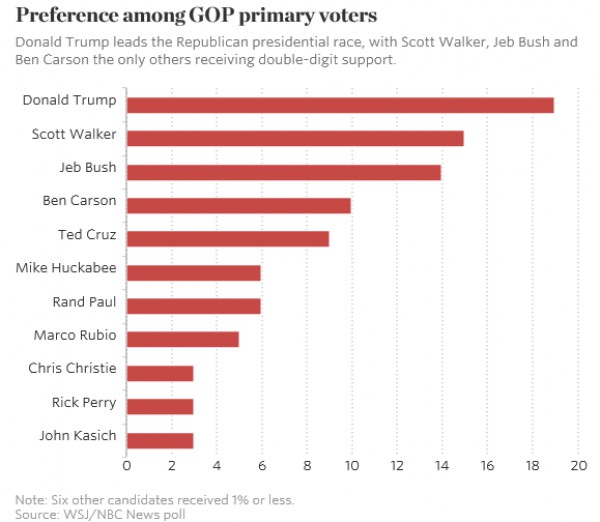 As The Wall Street Journal reports,
Mr. Trump's unanticipated ascent coincided with the arrival of five other Republican presidential candidates at a luxury resort here over the weekend to audition for hundreds of wealthy donors convened by billionaire industrialists Charles and  David Koch. It's a gathering that exposes both the promise and the limits of a new campaign financing system for the GOP. More money is flowing into the race, but the party and the candidates have less control over how those dollars are spent. The contenders also risk appearing beholden to deep-pocketed backers.

 

The biannual Koch conference set the stage for the busiest week yet in the nominating contest, with a candidate forum Monday in New Hampshire and the first candidates' debate on Thursday in Cleveland.

 

The Koch conference is an unrivaled convergence of roughly 450 conservatives who have pledged at least $100,000 a year to various political and ideological endeavors. Many are also financing individual presidential candidates and the so-called super PACs that support them.

 

Outside donors are taking on roles once solely performed by candidates and the party, from television ads to voter outreach. The Koch network plans to spend about $900 million in the run-up to the 2016 election, with about a third of that total devoted to influencing elections outcomes. Yet, these donors don't always see eye-to-eye with GOP leaders in Washington and could prove nettlesome for a Republican president.

 

The Koch network, for example, sparred with the Republican National Committee over who controls the vast repository of voter data that GOP candidates at every level of the ballot will need to turn out supporters next fall. The two sides recently reached a deal to share information, but the pact gives an entity backed by the Kochs a central role overseeing the party's data-collection efforts for the foreseeable future. Candidates also rely increasingly on Koch-financed groups to organize their grassroots events.
*  *  *
It seems Jimmy Carter was right after all,
"It violates the essence of what made America a great country in its political system. Now it's just an oligarchy with unlimited political bribery being the essence of getting the nominations for President or being elected President. And the same thing applies to governors, and U.S. Senators and congress members. So, now we've just seen a subversion of our political system as a payoff to major contributors, who want and expect, and sometimes get, favors for themselves after the election is over. …

 

At the present time the incumbents, Democrats and Republicans, look upon this unlimited money as a great benefit to themselves. Somebody that is already in Congress has a great deal more to sell."
*  *  *
Mr Trump did not seem too worried...
I wish good luck to all of the Republican candidates that traveled to California to beg for money etc. from the Koch Brothers. Puppets?

— Donald J. Trump (@realDonaldTrump)

https://twitter.com/realDonaldTrump/status/627841345789558788
It's going to be a busy week...