Shares of Facebook (FB) peaked at a high on the year around 133.45 in October. Since then, it has slide to almost 113.50, after which price started to consolidate sideways as we can see in the daily chart. 

Facebook (FB) Daily Chart 12/15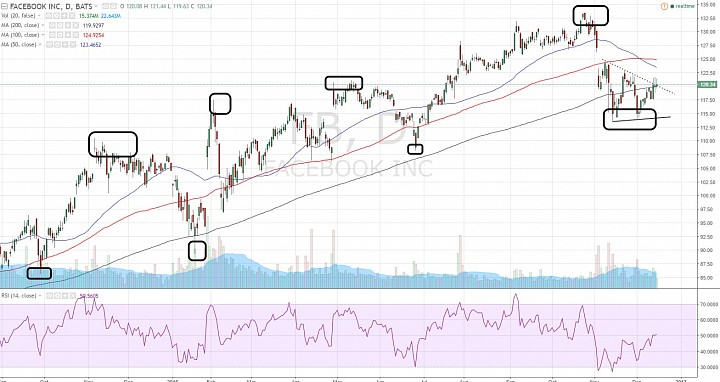 (click to enlarge)
Still a Bullish Market:
- Despite the bearish correction since late October, the price action of FB remains bullish on the daily chart based on the very basic definition of a bullish trend - higher highs and higher lows. 
- The only thing that looked concerning for the bullish trend was the fact that price fell below the 200-day simple moving average (SMA), which it has not done since 2013. If it has, price immediately shot back up the same or next day. 
- In the current case, price has spent many days under the 200-day SMA.
- Still, we can't say this market is bearish, but at least neutral-bullish, if not straight up bullish.

Consolidation Resistance:
- We can see a congestion or consolidation since November. Price was making lower highs and made a higher low.
- This week, price came up to the falling resistance that shaped the current consolidation structure.
- The market appears to be tentative here, but the earnings report will be more than a month away (Jan. 25, 2017). 

Can price break the current consolidation pattern?  Bullish Scenario:
- I think if price can hold above 107.50, it is in a bullish mode in the short-term. 
- A short-term bullish trend that breaks above 122.50 should signal a bullish outlook. 
- Above 122.50, the next key area to monitor will be between 125 and 127.50. This area involves a support, resistance pivot that might provide some resistance.

Below 117.50
- With a failed bullish breakout, a break below 117.50 would be a strong signal that Facebook is still in bearish correction mode. 
- A bearish correction mode could be the 110.00 area in sight. 
- A break below June's low of 108.20 would be needed to open up the bearish outlook, outside the context of a medium-term consolidation.
- A break below 108.20 would signal a long period of consolidation, either sideways, or with some further downside risk towards the psychological level of 100.
- A bearish outlook should be limited to 90.00, near the 2016 low.
- However, before we get ahead of ourselves, let's look for a break below 117.50 to push FB towards 113.55 (November low). 
- Then, we should probably limit the bearish outlook to 110. Support here would still keep the long-term technical picture bullish for FB.