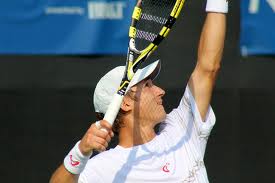 Professional tennis player Dimitar Kutrovsky was was banned from sports for 15 months after testing positive for DMAA – a stimulant banned by the World Anti-Doping Agency.
The reason was that Mr. Kutrovsky was taking Jack3d – an energy-boosting supplement sold to him by GNC (NYSE:GNC). Kutrovsky was assured by a GNC salesperson that the supplement was frequently used by professional athletes, and would not raise red flags in athlete drug testing; clearly, this was an unfounded comment.
"It has become increasingly clear that athletes who shop there [at GNC] put their careers in jeopardy," states Paul Greene, an attorney for Kutrovsky.
Following such events, one may reason: People go to GNC to seek out trained sales representatives to answer questions about potential purchases. Otherwise, the same supplements can be bought online for cheaper prices. So if the sales representatives are not even competent, why shop at GNC at all?