One of the main themes that I have been talking about here is the fact that I love to look at the stock of companies that have been absolutely crushed as a result of negative headlines, usually by 20% or more. The exact reason for the drubbing can vary, but it often includes accounting scandals, temporary problems with new products or plants, political issues, etc... I have found numerous winning investments by sifting through this sort of rubble. This morning the excellent Value Walk published a link to an older (from 1985) academic study from the Journal of Finance that uses fancy formulas and back testing to statistically prove exactly what I've been saying.
Research in experimental psychology has suggested that, in violation of Bayes' rule, most people "overreact" to unexpected and dramatic news events. The question then arises whether such behavior matters at the market level. Consistent with the predictions of the overreaction hypothesis, portfolios of prior "losers", are found to outperform prior "winners." Thirty-six months after portfolio formation, the losing stocks have earned about 25% more than the winners, even though the latter are significantly more risky
Does The Stock Market Overreaction Affects Stock Prices?
http://www.valuewalk.com/2015/03/archives-does-the...
I'm about to head on over to check out the day's biggest losers, sifting for hidden gems (to use TMF speak :) ) right now. Here's a link to a page that lays the big movers out quite nicely: Yahoo! Finance Stock Center.

One stock that fits the above description quite nicely is Lumber Liquidators (LL).
With all of the negative publicity surrounding the once high-flying company, it takes a lot of er um...guts to pull the trigger on a position in the company at this point.  This is definitely my type of investment. I was never interested in the company as a high-flyer, but I have taken a closer look at it myself a couple of times post-crash. I love looking at companies whose stock has imploded as potential buying opportunities. The stock definitely looks cheap at this level.  Furthermore, the people who I have spoken with in the industry say that all laminate flooring contains formaldehyde and short sellers are just picking on the stock using flawed testing methods.
There's a lot of variables here. The company's management certainly has not done shareholders any favors in its handling of the situation. They come across as at the very least disingenuous.  If the company did have to replace flooring that it has already installed it could end up being very expensive. The negative publicity won't help it either. In the end I have a feeling that this will all eventually blow over with minimal long-term damage, but that's just a guess.
I'm not a huge follower of Whitney Tilson's investment recommendations, such as SODA, CALL, etc... but I do really like his "Value Investor Insight" publication. It's a pretty good value for the money.  Tilson has been a very vocal opponent of the company.  I do not agree with his stance this time
Today was a solid day for Lumber Liquidators stock, with it rising over 7%...but the story is far from over.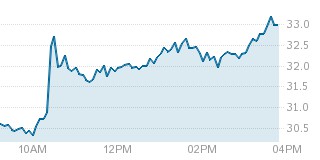 A one-year chart of LL (blue) vs. the S&P 500 (red)
On a personal note, I am in the midst of turning my basement into a barcade * and I had a discussion with my contractor this morning about what flooring we are going to use. I was adamant that we will not use Lumber Liquidators laminate flooring, but I am not morally opposed to buying from the company itself. I opted to go with a faux wood vinyl floor from LL. We don't usually get water in my basement, but in the event that I do that should weather better than real wood.
Jason
* A barcade is part arcade / part bar. I already have a 4-player MAME cabinet with HyperSpin, a MegaTouch Ion Fusion stand-up LCD with 2011 software, a Midway TouchMaster Infinity and a foosball table. I'm on the prowl for a pinball machine, but man those things are expensive.