GBP/CHF has been consolidating as you can see in the 1H chart.
Price is finding support at the 1.5050-1.5055 pivot area and resistance at the 1.5115 level. 1.5124 is the 2014-high.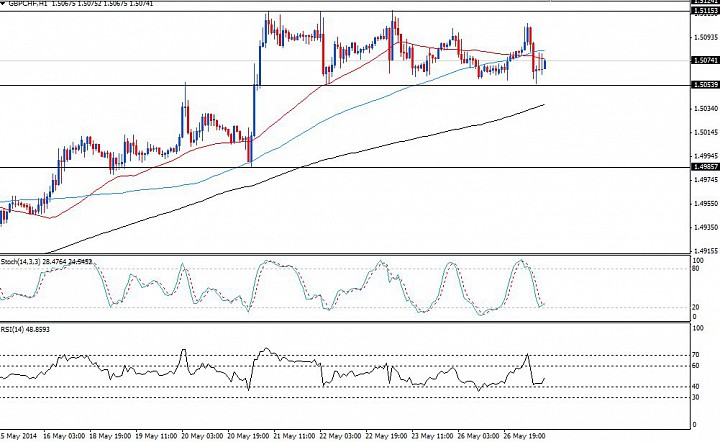 (gbpchf 1h chart)
Support, Bullish outlook:
As we get into the 5/27 US session, the pair is testing the consolidation support and so far holding.  The 1H stochastic is turning up from around 20, while the RSI is turning up from around 40. This dynamic in the oscillators can reflect a market with persistent bullish momentum. 
The market is still bullish, and the 1.5115-1.5124 area is in sight. A break above 1.5125 opens up new highs on the year. It also makes a multi-year high at 1.5487 in sight.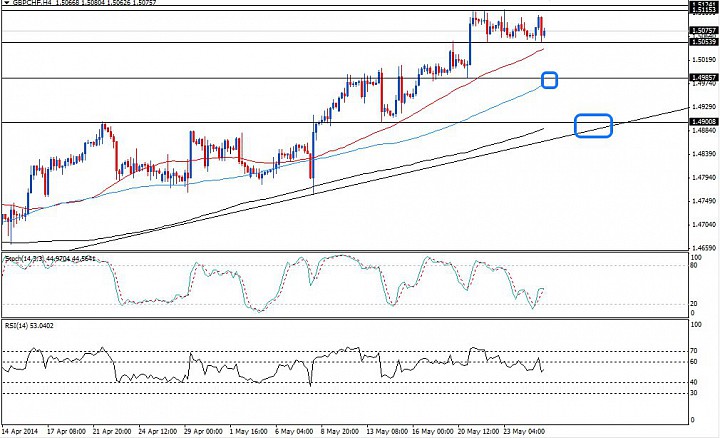 (gbpchf 4
Bearish outlook:
A break below 1.5050 opens up the 1.4985-1.50 area, near the 100-hour SMA. A break below 1.49 will be needed to introduce a bearish trend outlook. For now, the bearish outlook is limited as a correction, and the trend remains bullish even if consolidation support breaks. Traders will likely be looking to buy on a dip unless price breaks below the 1.49 pivot, and rising trendline that comes up from the 1.4475 support pivot made in March. A break below 1.49 might also break below the 200-SMA in the 4H chart, giving multiple bearish signs.