A glimpse of Office Depot, Inc. ODP share price movement reveals that it has surged 17.3% in the past three months compared with the Zacks categorized Retail-Miscellaneous/Diversified industry's decline of 5.1%. This Zacks Rank #2 (Buy) company has undertaken a strategic review of its business operating model, growth prospects and cost structure to bring itself back on growth trajectory, after an attempt to merge with Staples, Inc. SPLS fell through. Further, the stock's long-term earnings per share growth rate of 10.9% and a VGM Score of "B" portray its inherent strength.
Factors Driving the Stock
Office Depot is closing underperforming stores, reducing exposure to higher dollar-value inventory items, shuttering non-critical distribution facilities, concentrating on eCommerce platforms as well as focusing on providing innovative products and services. Moreover, it is increasing penetration into adjacent categories.
The company now intends to focus on core North American market and is in the process of shutting down all international businesses. It reached an agreement to divest operations in Australia and New Zealand to Platinum Equity. Recently, Office Depot concluded the sale of its South Korean business. Earlier in January, it concluded the sale of European business to The AURELIUS Group.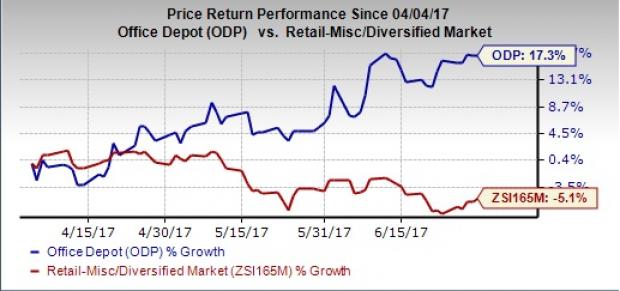 With respect to the cost containment effort, Office Depot is employing a more efficient customer coverage model, focusing on lowering indirect procurement costs along with general and administrative expenditures, and is also gaining from its U.S. retail store optimization plan. Management expects these endeavors to result in annual benefits of over $250 million by the end of 2018.
As part of its U.S. retail store optimization program launched in 2014, the company had shuttered 400 stores in the first phase, and plans to close 300 more stores in the second phase over the next three years. Further, it is focusing on smaller format stores of 15,000 square feet to better serve customers. As part of the pilot program, the company converted 25 stores in 2016 and plans to convert 75 stores to this format in 2017.
What's Affecting Industry?
Analysts pointed out that demand for office products (paper-based) has been decreasing due to technological advancements. Smartphones, tablets and laptops are fast emerging as viable substitutes for paper-based office supplies. Moreover, there has been persistent weakness in the office products sector. Further, stiff competition from online retailers such as Amazon.com, Inc. AMZN has been playing spoilsport for Office Depot. Recently, Staples accepted the buyout offer of Sycamore Partners. (Read: Staples to go Private After $6.9 Billion Buyout By Sycamore)
Office Depot continues to battle a dismal top-line that missed the Zacks Consensus Estimate for the 11th consecutive quarter, when it reported first-quarter 2017 results. Management expects total sales to be lower in 2017 in comparison with 2016, owing to the store closures, tough market conditions and loss of contract customers in the prior year. However, management anticipates the rate of decline to decelerate throughout 2017 taking into consideration higher customer retention and improvement in the contract channel sales pipeline, along with the implementation of new customer wins.
Key Pick
Another favorably ranked stock in the retail space is Five Below, Inc. FIVE carrying a Zacks Rank #2. The stock has a long-term earnings growth rate of 28.5%. You can see the complete list of today's Zacks #1 Rank stocks here.
5 Trades Could Profit ""Big-League"" from Trump Policies
If the stocks above spark your interest, wait until you look into companies primed to make substantial gains from Washington's changing course.
Today Zacks reveals 5 tickers that could benefit from new trends like streamlined drug approvals, tariffs, lower taxes, higher interest rates, and spending surges in defense and infrastructure. See these buy recommendations now >>
Want the latest recommendations from Zacks Investment Research? Today, you can download 7 Best Stocks for the Next 30 Days.
Click to get this free report
Amazon.com, Inc. (AMZN): Free Stock Analysis Report
Office Depot, Inc. (ODP): Free Stock Analysis Report
Staples, Inc. (SPLS): Free Stock Analysis Report
Five Below, Inc. (FIVE): Free Stock Analysis Report
To read this article on Zacks.com click here.
Zacks Investment Research