Tesla Motors Inc. doesn't really do traditional press releases. Instead, when Chief Executive Officer Elon Musk has something to say, he often relies on Twitter for a few 140-character revelations.
Following the unveiling last week of his new Model 3 electric car—which attracted almost 300,000 deposits from customers around the world—Musk tweeted 68 times, talking about features ranging from the car's instrument panel to its hubcap design and plans for high-speed supercharger networks in Europe and Asia.
We already knew a lot about the $35,000 Model 3, but here's what we learned from Musk this weekend:
Get ready for a spaceship
The prototype Model 3 that Musk revealed Thursday had a surprisingly sparse driverside dashboard. In fact, there was no dashboard at all, just a slightly oblong steering wheel and a 15-inch horizontal touchscreen that controls just about everything.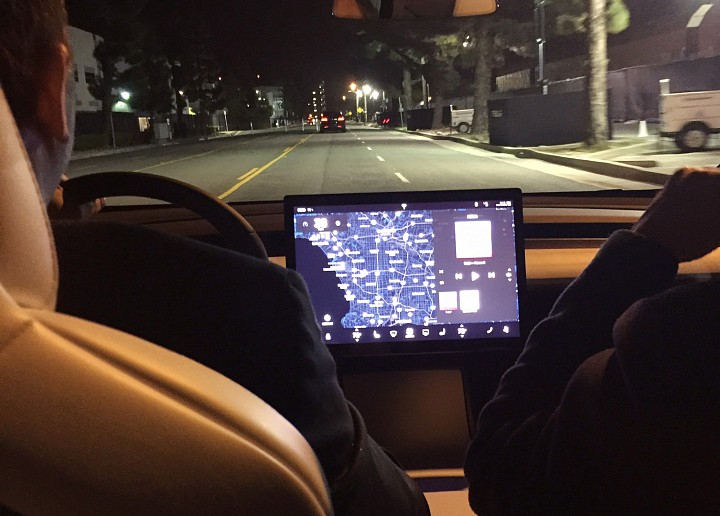 "Why did you choose that hideous steering wheel design?" someone asked Musk on Twitter.
Musk responded: "That's not the real steering system." In a separate exchange, he suggested the final Model 3 may feel more like something from SpaceX, one of his other companies:
The unveiling was just the first of two separate events showing off the Model 3's features before it heads to production late next year. Musk hasn't said where or when the event would take place. In response to another question about the lack of a dashboard, he said, "It will make sense after part 2."
Is part 2 a self-driving car?
Musk repeatedly referred to the second unveiling event. These exchanges prompted speculation on Twitter about whether the Model 3 may even be a fully self-driving car. Note the fact that Musk never says "steering wheel," instead referring to "a steering system" and "steering controls."
https://twitter.com/elonmusk/status/686279251293777920?ref_src=twsrc%5Etfw
, Musk said that in about two years, a person should be able to summon his or her Tesla from across the...
More