U.S. energy firm Apache Corp. APA reported second-quarter loss per share – excluding one-time items – of 21 cents against the Zacks Consensus Estimate for a profit of a penny. The underperformance stems from a dip in output due to a conservative capital budget over the past two years. However, the bottom line improved from the year-ago loss of 26 cents amid higher realizations.
Revenues of $1,384 million were below the Zacks Consensus Estimate of $1,419 million but managed to beat the second-quarter 2016 sales of $1,382 million.
Operational Performance
The production of oil and natural gas (excluding divested assets and non-controlling interests) averaged 387,562 oil-equivalent barrels per day (BOE/d) (65% liquids), down 16% from last year. Apache's production for oil and natural gas liquids (NGLs) was 250,251 barrels per day (Bbl/d), while natural gas output came in at 823.9 million cubic feet per day (MMcf/d).
The average realized crude oil price during the second quarter was $46.89 per barrel, representing an increase of 9% from the year-ago realization of $43.14. Moreover, the average realized natural gas price during the Jun quarter of 2017 was $2.60 per thousand cubic feet (Mcf), up 27% from the year-ago period.
Apache Corporation Price, Consensus and EPS Surprise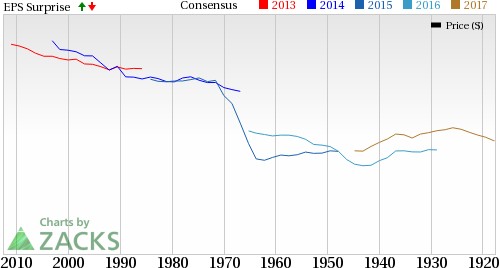 Apache Corporation Price, Consensus and EPS Surprise | Apache Corporation Quote
Balance Sheet, Capital Spending & Lease Operating Expenses
As of Jun 30, 2017, Apache had approximately $1,667 million in cash and cash equivalents. The Zacks Rank #5 (Strong Sell) company had a long-term debt of $8,329 million, representing a debt-to-capitalization ratio of 54.7%.
You can see the complete list of today's Zacks #1 Rank (Strong Buy) stocks here.
During the oil rout, Apache– like many other oil and gas players including ConocoPhillips COP, Chesapeake Energy Corp. CHK and Marathon Oil Corp. MRO – aligned its spending plans with the low-price environment.
But Apache is now looking to increase its capital investment after achieving cost rationalization. With returns-focused growth in mind, Apache announced a 2017 capital budget of $3.1 billion, representing a 60% increase over its 2016 spend. Keeping with the company's planned shift in strategic objective, Apache's oil and gas capital investments totaled $738 million during the Apr-Jun period, 85% higher than the $400 million incurred a year ago.
Apache's second quarter lease operating expenses totaled $372 million, up 4% from the year-ago quarter. However, total costs and expenses fell 17% from the second quarter of 2016 to $1,375 million.
Share Performance
Apache has lost 24.5% of its value year to date versus the 26.6% decline of its industry.

More Stock News: Tech Opportunity Worth $386 Billion in 2017
From driverless cars to artificial intelligence, we've seen an unsurpassed growth of high-tech products in recent months. Yesterday's science-fiction is becoming today's reality. Despite all the innovation, there is a single component no tech company can survive without. Demand for this critical device will reach $387 billion this year alone, and it's likely to grow even faster in the future.
Zacks has released a brand-new Special Report to help you take advantage of this exciting investment opportunity. Most importantly, it reveals 4 stocks with massive profit potential. See these stocks now>>
Want the latest recommendations from Zacks Investment Research? Today, you can download 7 Best Stocks for the Next 30 Days.
Click to get this free report
Chesapeake Energy Corporation (CHK): Free Stock Analysis Report
Apache Corporation (APA): Free Stock Analysis Report
ConocoPhillips (COP): Free Stock Analysis Report
Marathon Oil Corporation (MRO): Free Stock Analysis Report
To read this article on Zacks.com click here.
Zacks Investment Research