One week ago, an unexpected critic of Valeant (and by implication Bill Ackman's investment acumen) emerged when none other than Buffett's partner Charlie Munger slammed the battered pharma calling its practice of acquiring rights to treatments and boosting prices legal but "deeply immoral" and "similar to the worst abuses in for-profit education." In his role as chairman of Good Samaritan Hospital in Los Angeles, Munger said, "I could see the price gouging." And speaking as a storied value investor, he said, its strategy isn't sustainable: "It's deeply wrong."
Ackman, inbetween his now weekly public conference call defense of VRX stock (which is again selling off) took offense, and during an event that was supposed to commemorate Warren Buffett's 50 years leading Berkshire Hathaway and the billionaire's "exceptional management and savvy acquisitions" at the Museum of American Finance, Ackman - who was among the invited - decided to divert attention back to himself and retaliated to Munger's dig at Valeant with his own attack at the ethics, or lack thereof, of Berkshire Hathaway and its vice chairman Munger, when he told Munger, 91, "he had no business calling the drug company immoral, especially given the profits that Berkshire made from investing in soft-drink maker Coca-Cola Co."
"I have a problem with Berkshire's ownership of Coke," Ackman told an audience of about 200 people. "Coca-Cola has probably done more to create obesity, diabetes on a global basis than any other company in the world."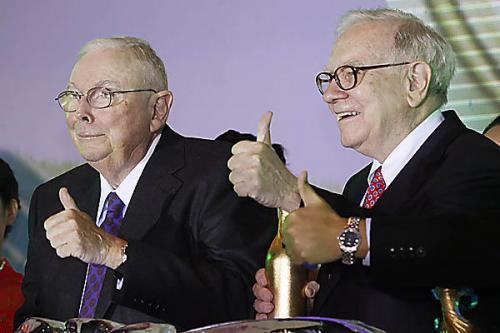 This time, Ackman was actually spot on.
Quoted by Bloomberg, Ackman continued: "I'm never one for avoiding controversy. What is Coca Cola's business model? Coca-Cola's business model is to displace the water that children and adults consume with sugar water."
Ackman said the company's profits are built on savvy branding at the expense of its customers: "You have some of the best marketing in the world and a lot of happy skinny people drinking it in the advertising," Ackman said. "Unlike the tobacco companies, there's no disclaimer on the Coke saying 'replacing the water in your diet with Coca-Cola can cause harm.' So when Charlie was saying Valeant is a deeply immoral company I would argue that."
To be expected, a spokesman for Coca-Cola promptly responded that Ackman went too far in his critique of the company. "These comments are irresponsible and do not recognize the current breadth of our business," he wrote. That, or perhaps he just focused on the one product that generates the bulk of Coke's revenues while the rest are merely adjunct revenue streams designed precisely as an ethical smokescreen to provide soundbites such as this one.
Buffett is known for his investments in sugary treats. Berkshire owns See's Candies and Dairy Queen, and has a large stake in Kraft Heinz Co. The billionaire said in May that he doesn't see many people smiling at Whole Foods Market Inc., the grocery chain known for its offerings such as almond butter and organic frozen blue curled kale.
This is not the first time folksy uncle Warren has been criticized: Dan Loeb said in May that the billionaire is full of inconsistencies.
"He criticizes hedge funds yet he really had the first hedge fund," Loeb said at a conference that month. "He criticizes activists. He was the first activist. He criticizes financial service companies, yet he likes to invest in them. He thinks that we should all pay more taxes but he loves avoiding them."
And yet this circle jerk of ethical idiocy would not be complete if one did not point out that Ackman's Pershing Square it itself invested in Mondelez, the maker of Oreo cookies. Furthermore, both Pershing and Berkshire have taken stakes in Restaurant Brands International owner of Burger King and the Tim Hortons doughnut chain.
Perhaps the most notable about the above bitch fight is just how suddenly sensitive and frayed the nerves of certain infallible, until recently, hedge fund managers have become when they resort to the most childish of defense and offense when called out in public, for something which is patently hypocritical.
None of this would have happened if the Magic Money Tree was still in bloom, and if the stock market had been up a solid 15% in 2015 instead of leading to the worst year for the hedge fund community since 2011, which has now been been underperforming the market since 2007, and where questions about the business model of an industry that does not need to exist when central banks themselves remove all risk of downside (and thus the need to hedge), have finally emerged.