In the U.S. venture capital world, total deal value reached a new record of $22.3 billion in Q2 2016, up from $17.5 billion from the previous quarter. The overall number of values are down overall, hitting just 3,967 in the first half of 2016. This projects to come at just under 8,000 for the entire year should the trend from the first two quarters hold. This would be down from last year's 10,173 deals. The annual record of 10,425 was set in 2014.

Deal value in 2016 as a whole looks to be on pace with 2015. Last year produced $78.8 billion in deal value. At $39.8 billion in the first half of 2016, this comes out to a projected $79.6 billion for the year as a whole.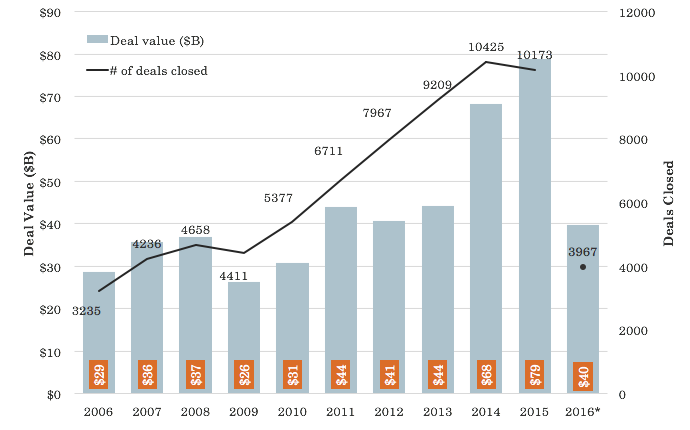 Software remains the biggest source of VC activity by sector. Moreover, deal activity has become more concentrated in software over previous years, looking to break over $40 billion in deal activity by the end of the year (over 50% of the industry). Healthcare and biotech comes in a distant second among sector-specific categories.