By Kate George
John Griffin is the founder, president, and CEO of Blue Ridge Capital LLC.  He is one of the more prominent 'Tiger Cubs.'  In the last year, his holdings garnered an average return of +4.42 percent. In the last three years, his holdings resulted in an average annualized return of +14.30 percent. In the second quarter, Griffin made several transactions, the more prominent ones being Fitbit Inc (NYSE:FIT), Etsy Inc (NASDAQ:ETSY), and American Airlines Group Inc (NASDAQ:AAL).


Griffin added Fitbit as a new holding to his portfolio.  Representing 1.52% of his portfolio, he purchased 3.5 million shares of the company currently valued at $134.65 million.  Founded in 2007, Fitbit manufactures wearable fitness monitor devices.  Fitbit made its debut on Wall Street when the company released its IPO this past July for $20 per share. Its shares hit $42.15 on July 7 marking a 100% increase from its IPO price. Its latest product offering is FitStar, which can act as a personalized trainer.  Fitbit will report its 3QFY15 earnings on November 2 and analysts will be looking for revenue growth compared to competition.
According to TipRanks, out of 14 analysts who have recently rated Fitbit, 10 have rated it as a Buy and 4 have given it a Hold rating.  The average consensus price target for the stock is $54.18, an upside of nearly 45% from current levels.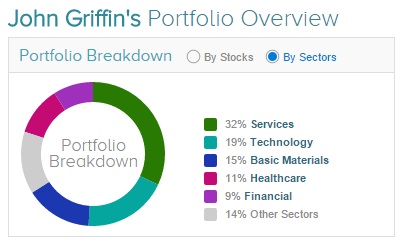 Griffin also added Etsy to his portfolio in the second quarter. With 6.95 million shares, Etsy represents 0.09% of Griffin's total holdings and is valued at $7.7 million.  Since its inception 10 years ago, Etsy has successfully pioneered the handmade market in e-commerce.  Recently it's been facing direct competition from Amazon's Handmade, an online arts and crafts marketplace. Analysts will be watching closely to see how Etsy can fare against the established ecommerce giant.
Based on TipRanks' statistics, out of four analysts who have rated the stock in the last three months, one has given a Buy rating, two have given a Hold rating, and one analyst has given a Sell rating. The consensus price target for Etsy Inc. is $15.25, a 35.40% upside from current levels.
Griffin did make some bearish moves in the second quarter as well. The hedge fund mogul sold out 100% of his holdings of American Airlines. Although the airlines industry has been reaping the benefits of record low oil prices over the last year, oil prices seem to have bottomed out. On October 23, the Company reported for the most recent period a 3.9% year-over-year decrease in revenue to $10.71 billion.
According to TipRanks, out of 8 analysts who have rated American Airlines in the last three months, 5 have rated it as a Buy, while 3 have rated the stock as Hold, and none have given a Sell rating.  The average consensus price target the stock is $55.25, a 20.98% upside from current levels.