According to comments made by Kinder Morgan Inc's (NYSE:KMI) founder Richard Kinder on the company's conference call last month, its stock was just stupid cheap. He took his own advice and bought more shares, forking over $3.5 million to buy another 100,000 shares of the stock.
While that's a drop in the bucket for him, it was still a statement. The stock then proceeded to get even cheaper as it continued to slide, falling double digits during the past month.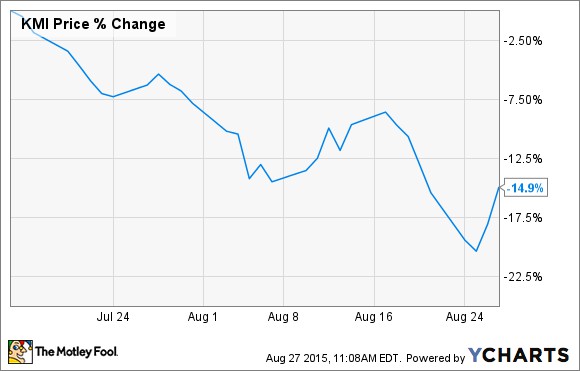 Now even I can't resist buying more shares, as I recently bolstered my overall position in the company by 50%. I just couldn't pass up the company's more than 6% dividend, which is firmly backed by fee-based contracts and a very strong project backlog that positions the company to grow the payout by 10% per year through 2020.
It's all about the fees
While oil and gas prices have been in a rut for a while, that doesn't have very much impact on Kinder Morgan's cash flow. That's because 96% of Kinder Morgan's cash flow this year is either fee-based, or hedged. As a result, the weakness in the price of oil and gas is having a minimal impact on its cash flow this year. In fact, at current commodity prices, the company is expected to generate more than $300 million in excess distributable cash flow after paying a dividend that's expected to be 15% higher than last year's payout.
Moreover, the company has a $22 billion project backlog that it expects to build during the next five years. About 90% of these...
More