Current price: $30.61 
Target price: $31.72
Talking about financial sector, we usually take into account banks, investment banks, hedge funds and insurance companies. Anyway, we miss a huge field of companies, which could serve us as profitable investments.
We are talking about leasing companies. Today we will try to analyze Avolon Holdings (AVOL), a global airline leasing company founded only in 2010 and which had an IPO last December.
Now the price per share is $30.61 and there are many internal factors that could lead to increase in share price (most of them were released through Q3 results):
Net Income up 33% to $58 million versus Q3 2014;
Adjusted Net Income up 49% to $76 million versus Q3 20141;
Seven aircrafts sold with a net book value of $276 million at a gain of $21 million or 7.6% premium to net book value;
200 basis point year-on-year increase in Return on Equity from 12.6% in Q3 2014 to 14.6%;
330 basis point increase in Adjusted Return on Equity from 14.6% in Q3 2014 to 17.9%;
EPS is significantly larger than industry average.

Moreover, several external factors could tell us that aviation leasing would be in demand at least for next 10 years:
Airline traffic would grow 3-4% annually;
There is a great demand for new planes in India, China and south Asia region;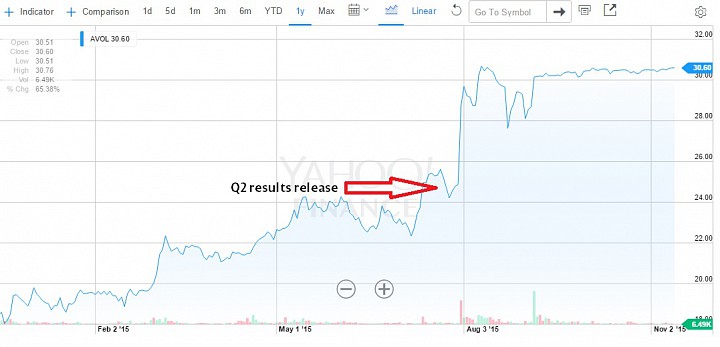 If we look on a chart, we can see a huge increase in price – this share made it right after Q2 results were released. Since Q3 results are now available and they are quite impressive, we can expect the same performance this time.
However, remember, time is money, so if you want to earn some money on this share, you have to hurry. We recommend you to hold the share until the price reaches $32 and then to take profit.