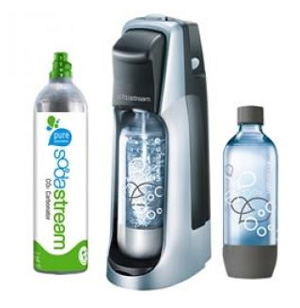 A while back I wrote a post about this company's product: read here.
SodaStream International Ltd. (NASDAQ:SODA) is very interesting for me to following because it is similar to Green Mountain Coffee Roasters (NASDAQ:GMCR) which has done exceptionally well over time.
Green Mountain Coffee has been a public company for a while but it was not until they introduced the Keurig coffee maker that the company began to take off. The business strategy is simple, sell high quality coffee makers with individual cartridges of coffee that consumers must replace after every cup.  The great thing about the Keurig is that the coffee is just as good as you would get at a local coffee shop but you can make it at home.  Most of the revenue comes from the K-Cups that customers purchase. Over the past few years Green Mountain has partnered with other companies like Dunkin Donuts and Snapple to make K-Cups for the Keurig. Today you can go to the grocery store and see K-cups from Starbucks, Maxwell House, and Gevalia. The company has certainly revolutionized the industry.  
I like SodaStream because they have the same potential, SodaStream is a soda machine that you can purchase that can turn any drink into a delicious carbonated beverage. So you can literally make soda at home. This company currently sells packages of concentrated flavors that you can pour into bottles and make you own soda. They have partnered with Kool-Aid to produce Kool-Aid flavored soda. You can also purchase cola concentrate and make your own cola at home. But I want more, I think this company has the potential to do what Green Mountain did, go to soda companies like Coca-Cola (NYSE:KO) and Pepsico Inc. (NYSE:PEP) and create flavor concentrates. This is better for the environment, takes up less shelf space, and you never have to worry about it going flat. Fresh soda every time, what can be better.
With SodaStream you have the ability to make soda healthier and this is what customers want. 
So what do you think is SodaStream a big hit?