Angela Merkel just upst the narrative in a major way. After 24 hours or so of "well Greece is fixed" chatter about compromises - that wer later rebuked by Greece's Varoufakis, no lesser uberlord of Europe than Angela Merkel just dropped the following tapebomb:
*MERKEL SAID TO EXPECT GREEK FUNDING TALKS TO DRAG ON FOR MONTHS
Which means the crucial Feb 28th date looks like a problem - unless the ECB folds (diplomatically based on assumptions that Greece will fold in the future). The DAX (and for that matter all risk assets) is rolling over on the news...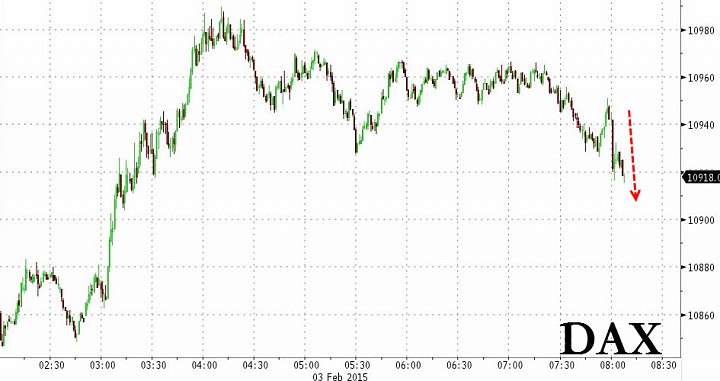 As we explained previously, Feb 28th is D-Day...
All of the above then leaves three things that need to be clarified over the next few weeks.
First, under what conditions would the Troika be willing to extend the program and what form would this extension take? Our initial expectation was that a technical extension would have been offered to July followed by a successor ECCL program. Recent market developments and poor budget execution leave Greece's ECCL eligibility an open question however, and it is possible that the Troika now only accepts program extension by a full year to coincide with the conclusion of the IMF program in March 2016. Such a large extension would be more difficult for the Greek government to manage domestically.
Second, does the ECB link Greek bank ELA provision to program extension as well? Given rising usage over the next few months, we would consider this an increasing possibility.
Third, what will the Greek government's response to these conditions be? Public statements over the last 48-hours make it particularly difficult to envisage the government's reaction function. On the one hand an offer of a one year extension and a written commitment to close the review would be particularly difficult for the government to manage domestically. On the other hand, the suspension of ECB financing of Greek banks would be exceptionally damaging to the economy.
Here is an indicative timeline of key events that will likely provide answers to these questions:
Friday January 30th – Eurogroup President Dijsselbloem meets with the Greek finance minister Varoufakis and Deputy PM Dragasakis in Athens. A press conference will follow, with the meeting likely setting the tone of negotiations to follow.
Sunday February 1st - Greek finance minister Varoufakis meets UK finance minister Osborne in London
Monday February 2nd – Greek finance minister Varoufakis meets French finance minister Sapin in Paris Tuesday
February 2nd - Greek finance minister Varoufakis meets Italian finance minister Padoan in Rome
Wednesday February 4th-5th – Bi-weekly ECB review of ELA
Wednesday February 4th – Likely t-bill auction to cover 1bn redemption on 6th
Thursday February 5th - Greek parliament opens, elects new speaker of the House
Saturday February 7-9th Government presents legislative agenda to parliament, vote of confidence midnight Monday 9th
Wednesday February 11th – Likely tbill auction to cover 1.4bn maturity on 13th
Thursday February 12th – European Council of EU Leaders, Tsipras likely to meet Merkel on sidelines
Friday February 13th – Voting for new Greek President begins, EC Commissioner Avramopoulos most likely candidate as per various media reports, originating from New Democracy. Likely completed by second round on the following day requiring 151 MP majority
Monday February 16th – Eurogroup where Greece likely to be top of agenda, conditions for extension of program to be made explicit by now
Wednesday February 18th-19th- - Bi-weekly ELA review
Saturday February 28th – Current EFSF program expires
In sum, developments and pressure on Greece have accelerated over the last few days, with a very large degree of uncertainty around both the Greek government's and Troika's position on how negotiations will proceed. We expect this to be ultimately resolved by a Troika request from the Greek side to commit to program completion and the broad contours of previously committed policy, particularly with regard to structural reform. In turn, program extension may itself be linked to ongoing ECB/ELA financing of Greek banks. The precise form this request takes and the Greek government's reaction will ultimately determine the path Greece takes in coming weeks and months.