Zareena Sayeedova, Leading Analyst, Global Markets (Finam)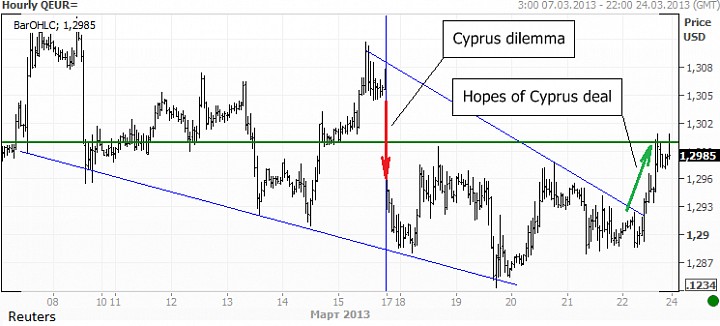 As we expected, last week the single European currency mostly retreated against the dollar. The Cyprus story predictably remained in international headlines and left investors no room for optimistism. Meanwhile, a FOMC meeting had no tangible effect on the EUR/USD pair as Fed chairman Ben Bernanke left unchanged the wording of a rate policy statement about keeping the exceptionally low rate as long as unemployment remains above 6.5%. The only news that attracted investor attention was the prospects of Fed chairman Ben Bernanke stepping down, and the US central banker said at a press conference that he had already discussed this possibility with US President Barack Obama.
As for Cyprus, one of the smallest EU economies faced chaos around March 15 after EU authorities demanded the country to take unprecedented measures in exchange for a EUR 10 bn bailout. The prospects of one-time deposit levies failed to pass the muster with Cypriot lawmakers and parliament voted down the relevant bill.
At the same time, the ECB withheld funding to the island state, but pushed for anti-crisis measures as soon as possible, setting Monday as the deadline for an alternative plan to be approved. Cypriot banks were closed the entire week and will reopen only on Tuesday March 26.
On Saturday Cypriot authorities held talks with representatives of the ECB, the European Commission and the IMF about whether the country would be able to put together EUR 5.8 bn, the amount required to obtain EUR 10 bn from the EU. This meeting yielded no results and negotiations continued on Sunday night in Brussels, and the future of Cyprus hung in the balance.
A meeting between the trio of international creditors and Cypriot President Nicos Anastasiades began much later than the 18.00, as scheduled, but the parties managed to come to terms and reach a preliminary agreement on the country's international bailout. As part of the plan agreed the country's two largest banks would go through deep restructuring and holders of EUR 100,000+ deposits are under threat of big losses. Thanks to these measures and also the expropriation of Church assets, Cyprus will succeed in collecting the required amount to unlock the EUR 10 bn from the EU and avoid default.
In all likelihood, under the influence of these developments global risk appetite will re-emerge and will help shore up the euro. As the economic schedule is light and given exchange holidays on Friday we expect the EUR/USD pair to consolidate with modest gains within the area of 1.30 to 1.314. The euro bulls are not likely to return en masse, but the unified European currency 'deserved' a shot in the arm.